Wireless Earbuds For Working Out In The Gym
Hi everyone!  I am so excited to share this post with you on wireless earbuds.  If you are like me I love listening to music while I workout. It give me extra energy and helps me push through my workouts.
No More Wires
For years I had been using my favorite iPod with a clip on case and wired headphones.  The wires always got in the way and there were many times when my iPod went flying across the gym because the wire got wrapped around weight or a kettle bell.  
Then I switched to a set of wireless headphones that were great for a while.  No more wires to get tangled in, wireless freedom!  But they did not last very long and the headband broke in half.  I was holding them together with electrical tape for a while because they snapped in half.
Product Review Video – World's Smallest True Wireless Sports Earbuds 
Winner Gear Wireless Earbuds
Then Winner Gear asked me to review their wireless Hero earbuds. OMG!  I am in love with them.  They are so cute and tiny and fit right into your ear comfortably.  No more headband! 
"the quality of music is super clear and the earphones don't fall out". 
I charged them up and took them to the gym the same day.
Well, you don't know what your missing until you realize what you have been missing.  What I mean is that the sound quality was off the charts compared to what I was using.  The music is so crips and clear. I kept smiling, people were wondering why I was so happy.  I told you music while I workout makes me happy.
These wireless HERO earbuds have a great sound quality with three hours of play time and even include a built in microphone so you can answer calls. These earbuds are a definite gym essential.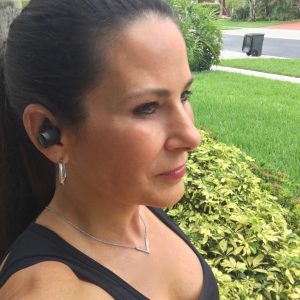 HERO  Smallest True Wireless Sports Earbuds
12 Hours On-The-Go
3 Hours Playtime
2 Years Warranty
Noise Cancellation CVC 6.0
8mm Large Customized Dynamic Driver
Sweat-proof Coating
Portable Charging Case
Adjustable Hook
On-Earbud Controls
Play / Pause / Answer Calls / Skip Song
Built-In microphone
Wireless Charging
What's included in each HERO package?
Left Earbud
Right Earbud
2 Sizes of ear tips
2 Sizes of ear hooks
Charging Case
I love the charging case because the wireless earbuds have a "home" and I always know where to find them.  I hope you enjoyed this post.
You can see my other "Laura Loves" gym favorites like my favorite workout partner and more posts here.