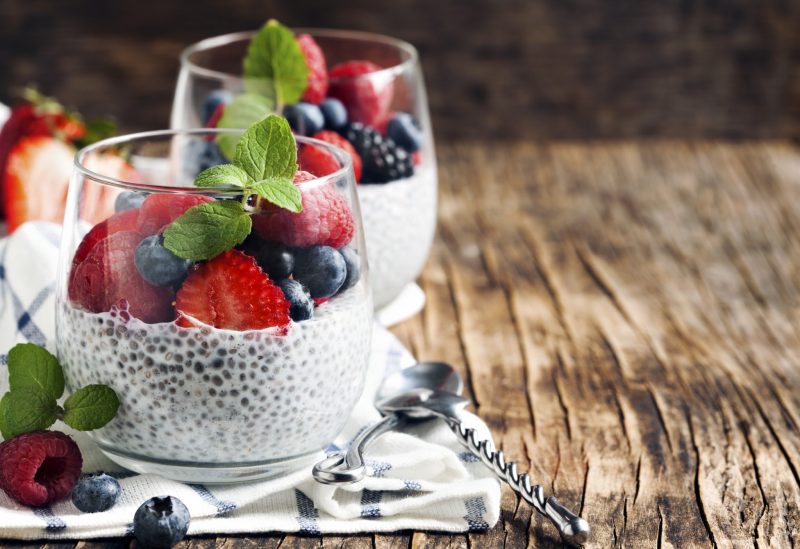 Easy Chia Seed Pudding
Easy and Delicious Chia Seed Pudding. Chia seeds are one of the healthiest foods on the planet!  They are a tiny black seed from the Salvia Hispanics plant, which is part of the mint family.  The word "chia" means strength in ancient Mayan.
These tiny cute little seeds are a powerhouse packed full of vitamins.  One ounce (2 tbsp.) contains fiber, protein, healthy fats, calcium, manganese, magnesium, phosphorous and some zinc, vitamin B3, Potassium, Vitamin B1 and Vitamin B2.  I would say that is quit a lot of nutrition in a tiny seed!
Add lemon, lime or orange zest
Add fresh mint
Add raw cacao powder and slivered almonds or shredded coconut
Add raw cacaos powder and natural peanut butter or almond butter
Use coconut or almond milk in place of cashew milk
Ingredients
2 c almond milk
1 c chia seeds (depending on how thick you like it)
cinnamon to taste
a few drops of liquid Stevia (Sweet Leaf) if desired
Toppings of choice
Instructions
Add almond milk, add chia seeds, cinnamon and sweetener if using to blender
Blend on high until mixture becomes pudding like
Top with your favorite fruits and superfoods
I love banana slices, strawberry slices, raw cacao, shredded coconut, goji berries and a drizzle of honey
Pour into two small mason jars or it sometimes makes enough for 3 jars
Now you have a healthy snack ready to go for the week
Notes
Try these variations of Chia Seed pudding.
Add lemon, lime or orange zest
Add fresh mint
Add raw cacao powder and slivered almonds or shredded coconut
Add raw cacao powder and natural peanut butter or almond butter
Use coconut or almond milk in place of cashew milk
Recipe by Laura London at https://lauralondonfitness.com/easy-chia-seed-pudding/