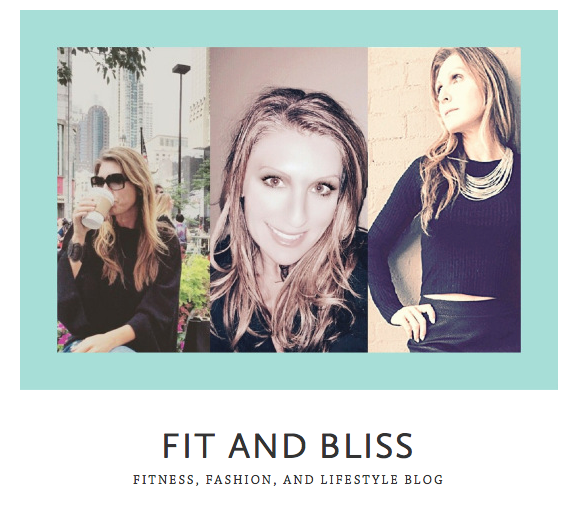 HUGE thank you to Melissa of www.fitandbliss.com Blog for having me on the blog for an interview!
Melissa is a mom of two and runs a great Fitness and Wellness Blog and her motto is "Your World To Healthy and Fit!" Melissa is a mother of two active kids and fitness plays a huge part in her life.
Read the interview as we talk about:
Fitness
Motherhood
Why DECIDING when doing anything is the key to getting what you want
Nutrition
INTERVIEW WITH LAURA LONDON
Hi, beauties! Today's interview comes from fitness expert, Laura London! I've admired Laura ever since watching her on the JNL Fusion videos. I hope you enjoy this post, and be sure to follow Laura for daily inspiration and motivation.
Laura London before and after Q:
Could you tell me a little bit about yourself?
Laura: I am a mom of 3 teenagers and a wife of 24 years. Those are my major life accomplishments! I grew up in Connecticut and then moved to Florida in 1994 and have been here ever since. Growing up my brother had hemophilia, which is a rare blood disease. His blood did not clot and always had to have special injections his whole life. Because of his illness, I was adopted as a 5-day-old infant. My parents were European immigrants and my household was loving but very serious due to my brothers' illness.
Q: How did you get into fitness?
Laura: I was a very late bloomer in the fitness world. Because of my brothers hemophilia we did not play any kind of sports growing up. We did not even watch them on TV. I am what you call sports "illiterate". I remember grocery shopping one day with my 3 small kids and picking up a magazine with before and after transformations in it. I had never seen anything like that before. I am still not quit sure what possessed me, but I decided I was going to do that too. I was in my early 30's. Now realize I was about 30 lbs. overweight and had never lifted a weight in my life. I had also suffered from Mono, Chronic Fatigue, Epstein Barr. I joined a gym, read everything I could find on fitness and nutrition and created an action plan that I stuck to. I was committed to my transformation.
The one thing I have not shared openly is that right before this I had lost my father. He was the rock in my life. I think fitness was my outlet to deal with the heavy loss that I was going through. To this day I do not think I would have made it through without the support of my family, friends and fitness. I kept going to the gym, eating clean and not giving up and amazing things started to happen. I traded in my baggy shirt for form fitting clothes, muscles started to appear and everyone kept asking me what I was doing. I felt great and on top of the world.
I then met a trainer in my gym and she got me into competing in figure competitions and I was hooked. Fitness has now become part of who I am. All was great and then I lost my brother unexpectedly he was 36.
Losing  my passion for fitness and life took over. I woke up one day at 42 and found myself again, 30 lbs. overweight and my hormones were out of control and I was addicted to sugar. I also had a crazy back issue and I was having trouble just walking. I was embarrassed because a few years a go I had been in such great shape.
I made a DECISION. This was not what my 40's and the rest of my life was going to be like. It was like starting from scratch again, first walking because that was all I could do. Then joining the gym again, cleaning up my diet and this time getting in the best shape of my life in my 40's and I have not looked back since.
I am now a published author of the Hot and Healthy Body, a blogger and YouTuber as well as a International Fitness Model, and creator of the Fit and Fabulous Mom Contest. If anyone had told me I would be doing any of these things I would have said oh, not not me. My passion and mission now are to motivate and inspire other woman to be their best at any age. Fit and fabulousI truly believe that fitness makes you stronger not only in the gym but in every area of your life.
Q: How does fitness fit into your everyday life being so busy?
Laura: Fitness is an appointment I keep with myself. I know that self-care and self-love have to come first in a women's life. If we do not take care of ourselves we have nothing left to give for everyone else. It is still challenging for me to get to the gym and exercise, just like everyone else. Some weeks it may only be one day and some weeks it may be four days. The key is just to keep active and not stop for long periods of time.
Consistency is truly the key to living a fit and fabulous lifestyle.
Q: What does your daily diet consist of?
Laura: Great question! I have lived vegetarian, raw, and the bodybuilding lifestyle. What I have learned is that I do not ever want to say I can't eat any type of food. I listen to my body and eat what I need. My diet mainly consists of organic fruits, veggies and lean proteins. I do not believe in counting calories, deprivation or cutting out whole food groups!
Breakfast can be a green smoothie full of greens and low sugar fruits and sometimes a vegan protein powder. I eat snacks that can be anything from fruit, to a gluten free waffle with coconut yogurt and fruit on top. Love it! Lunch is usually a salad with lean protein and a healthy carb like brown rice and quinoa. It's all about flavoring your food with herbs and spices. Dinner is usually a lean protein with some veggies. My favorite food is anything with chocolate, because in my world chocolate is a food group.
Laura London Q: I've seen you in the JNL Fusion videos. How did JNL Fusion take place in your life?
Laura: The Fusion videos! I met Jennifer Nicole Lee at a retreat and we really hit it off. She invited myself and about 20 other people who were into health and fitness to be in the DVD's. We spent 2 weeks in San Diego Filming the DVD's. We filmed at a local boxing gym and filming went way into the night and we loved it! I still keep in touch with many of the amazing people who I met during that time.
Q: Why do you think fitness is so important?
Laura: I think fitness is so important because it takes structure, discipline and commitment. These are great characteristics to have that you can apply to every area of your life. Fitness is also a great thing to do with your family. My husband and I love working out together and it gives us a lot to talk about too.
Q: Could you tell everyone about your upcoming Fit and Fabulous Mom contest?
Laura: This will be our 5th annual Fit and Fabulous Mom Contest. Time passes by so quickly. The Fit and Fabulous Mom Contest is for moms who keep in shape while raising a family. It's about being your best at any age. The show is about stage presence, self-confidence, motivation and doing something out of your comfort zone. We have two rounds a fitness wear and an evening wear round. It is a family friendly event and we bring the kids on stage. They absolutely love that! We have an amazing celebrity judging panel, entertainment, trophies, gift bags, vendors and more. This is a night to dress up and rock your Fit and Fabulous with women from across the country. We have moms ranging in age from 25 to age 80 on stage. It is a night you don't want to miss.