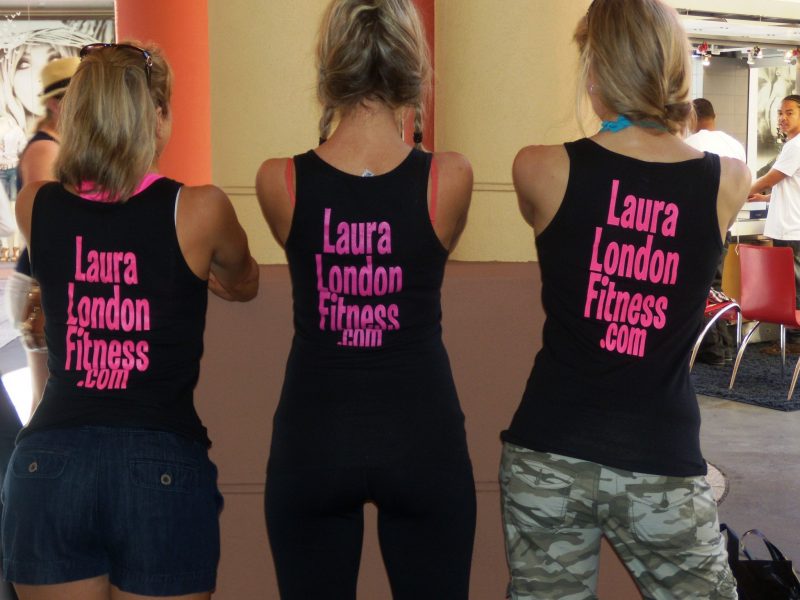 Exercise Your Right Tank Tops
Exercise Your Right to be Sexy tank tops.  Photos sent in from ladies across the globe.  SEXY means feeling confident, feeling healthy, happy and beautiful in your own skin at any age. It's time to redefine the word on our own terms.
Here is how real women define Sexy…..
Sexy Is … Speaking Out
Sexy Is … When I'm Makeup-Free
Sexy Is … Strength
Sexy Is … Making Yourself Seen
Sexy Is … Being In Control
Sexy Is … Showing Your True Self
Sexy Is … Confidence
Sexy Is … Being Healthy
Welcome to  Laura London Lifestyle & Fitness
Are you frustrated getting fitness advice from a young girl who is half your age and who has zero experience in LIFE? Most fitness gurus have never had to deal with any of the fitness, metabolism and time management problems of a women who is old enough to have a life full of kids, family, and career.  Of course, you already know that you're fabulous, but you need someone who can show you how to discover and become an even better version of yourself – because they have done it themselves?
Who doesn't want to feel more CONFIDENT, SEXY, and POWERFUL?  I will  provide you with a specific roadmap for awakening your inner female goddess by transforming your life through fitness, food, fashion and fun. This is a place where busy women in the real world can come to rejuvenate their minds, refresh their spirits, and transform their bodies. With this in mind, I am with you every step of the way, providing you with fresh, fun and effective fitness advice.
Sexy is all about the way you feel inside
If you feel your best, are happy, healthy, ready to take on the world, you exude energy like no other. You want to look your best because you feel so good. Wearing clothes that make you feel great. Taking the extra time to make sure you put your best foot forward when you walk out the door each morning.
I know that finding the time to eat right, exercise and become mentally and emotionally charged is extremely challenging for most women.  You don't have hours of extra time every day to meet your goals.  Because of this, I have created practical programs that you can easily integrate into your hectic schedule without extra stress and guilt.
Fitness is the first key component to awakening the POWER within you for transformation
I believe that you don't need to schedule hours of extra time every day to achieve good fitness goals.  Exercise can become part of your daily life in ways that don't require crazy time commitments. She is a mother of three active children and she drives them to school events, helps with homework and spends quality time with her kids just like you – while keeping in the best shape of her life.  You can do it too!  Laura London Fitness can give you great tips to develop your own unique workout routine that will transform your body AND meet your time schedule. You will see and feel the RESULTS!
Food – proper nutrition – is the second key component to unleashing your POWER
I have been nicknamed "The Green Fitness Goddess", for a good reason.  I share with you nutrition tips  to eat healthy food that not only tastes great, but also won't leave you feeling bad about yourself later. My belief is  that the right foods will fuel the body and the mind. Taking control of your health and wellness means taking control of your kitchen – and stepping away from the takeout.  But don't worry, you won't be cooking solo – my nutrition tips and videos will take you from a junk food addict to a healthy food expert in no time.
Fashion – Everyday is a fashion show and the world is a Runway.  Coco Channel
Looking great and feeling confident in our own skin brings out the true essence of a woman.  I encourage you to try styles a bit out of your comfort zone.  When you dress confidently you will feel powerful and sexy. All women are unique and at times, we need to feel sexy, romantic, flirty, powerful, glamorous, comfortable or even spicy –
We can be everything and anything we want to be. Looking your best on the outside can change how you feel about yourself on the inside.
Finally, life and fitness must be FUN. Get started finding your inner female goddess and connect with other women who are just like you. It's FITNESS, FOOD, FASHION and FUN.  It's time to be the POWERFUL woman you were born to be!