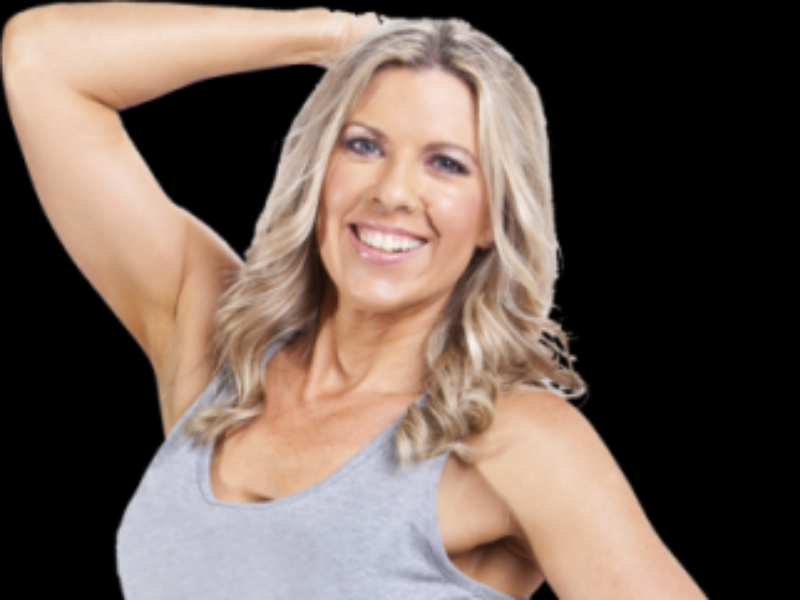 Hi everyone:
I want you to meet my friend and "Featured Goddess" Mandy Gibbons.  When I first started this fitness journey, Mandy was the first person who reached out to me and I did my first interview with her on Virtual Fitness Trainer.  We have kept in touch ever since.
I know you are going to love her as much as I do!!
Enjoy reading her "GODDESS" interview.
Mandy Gibbons
Name: Mandy Gibbons
Age: 43
Married/Single: Married
Children & Ages: Two furry babies:  Yellow Labrador – Arnie (12 yrs), Black Labrador – Lou (9 yrs)
Heritage Background:  Dad and Mum are Australian (Mum was born in Ireland, moved to Australia when she was 7 yrs old and later became an Australian Citizen)
Occupation: Fitness Trainer, Body Transformation Expert, Writer… "Sister", carer, motivation chic, hugs giver to my clients.
1.  How and why did you get into fitness?
I was athletic at school, then let it slide, more social sports during late teens and early twenties. Then after I went through a rough time in a relationship (did what many of us gals do, and put the men first and ourselves last)
I found myself overweight, depressed, hating myself and my body – feeling like a loser. During this time I met a bodybuilder / PT who had a rockin body.
I asked her how she got into such amazing shape.  I started training with her. Once I saw the amazing changes it made to me physically and mentally, I wanted "in". So I went to the "big smoke" – 5 hours drive away (I lived in a country town), and studied Personal Fitness Training. And went from there.
2.  Have you gone through a transformation?
Yes, once when I was in my late teens, after a motor cycle accident. I gained a lot of weight as I wasn't able to walk for several months. Then I lost the weight doing a lot of outdoors/physical activity when I recovered.
– The second was the above, before I became a PT.
– The third was falling severely ill a few years back now from toxic emissions from a facility that was built near my home. Just walking was a struggle as I couldn't breathe from the emissions. My eating was off track, because I "felt" so unwell 24 / 7. Had constant migraines, nauseous, acute chest pain, skin rashes, vertigo, blood noses… just to name a few.
I wasn't obese, but my muscle had depleted big time and my body fat skyrocketed. I didn't want to eat, due to the nausea, when I did eat it was just things like dry toast or something plain that I could put in my stomach. The only decent thing I consumed was Vital Greens and Vital Protein each day. I thought if I at least had that once per day, it might help me get through.
Being older, getting back in shape (not to mention the whole mindset issue from feeling ill all the time, and guilt of me being a PT and being like this – even though I know it was because I was so ill from the emissions – was a struggle.
The emissions reduced, and when winter came along, (emissions were stronger in summer due to the weather conditions – winter rain subdues the emissions), I decided it was my chance to just go for it and do everything I could to get better. I knew the tools, I had the skills to do it and totally went for it. Dug my heels in and gave it all I had. Boy am I so glad I did.
3.  What advise do you have for woman who want to get back into shape or who are just starting out on their health and wellness journey?
First off you have to really, really want it. We can all say "yeah, I wanna get into shape". Everyone says that. But putting it into action is what is going to get you there.
For example: "I want to get into great shape, but I still want to eat takeaway pizza, pies, ice-cream, cakes, fried foods all the time."
You simply cannot "out exercise" your crappy eating.  And deep down you know this just isn't going to cut it.
Think about it… exercising and then poisoning your body with toxic food. They just don't go hand in hand.
You can make way healthier versions of those foods yourself at home, (with super nutritious ingredients) so they support fat loss, lean muscle and your sexy "fitness awesomeness" (term I use for my clients).
Let's face it, if you never give getting into shape a "real" chance, you'll never know.
Don't make excuses for when it doesn't fall into place. Say to yourself "Ooops, I messed up, now what can I do to change or improve this?" And then make those changes.
If you don't make those changes, and just keep doing the same old things that don't work over and over, you can't expect improvements… right?
Each improvement you make = the closer you get to your goal = sooner you see the results = And that's pretty exciting.
That stinky word "procrastinate". Sure, being out of shape sucks, but you can sooooooooooo change it. That's the exciting part about it. You don't have to sit there and feel like crap at all.
You can wake up tomorrow, or do it right now, and say "today is the day, I'm going start my kick ass transformation journey".
You can transform yourself and your body and – even cooler – you can do it all from home! Now, more than ever before, you can!
Believe in yourself.  Don't freak yourself out wondering what other people think. Eg… what if I fail, they'll think I'm an idiot for trying, I'll look stupid going to the gym (I'll wait till I get into shape then go to the gym)…
Listen up, this is huge, and this was a biggie for me…
This IS ONLY WHAT YOU THINK THEY THINK… That's right! You have no idea what they think. Why are you spending time, presuming all these negative things when they're just statements you're telling yourself – all coming from your own self-doubts.
If you bury yourself in worry and obstacles, it will destroy you, your spirit and your quality of life and those around you.
Look, if someone you know does spend all their time saying negative crap about you, then it's time to rethink your friendship with them. And start focusing on folk who lift you up, genuinely love you and support your efforts.
4.  What were some big challenges in your life that you overcame?
Probably because this is the most recent… The toxic emissions from the facility built near us. It was very political with Local and State Govt having their fingers in the pie. When you go up against a multi-million dollar business and politicians who don't care about the well-being of residents, they get really nasty. Residents became too scared to fight it.
I fought it for years, having to speak in parliamentary inquiries, head up campaigns for it, put up with threats and bullying, being afraid for my well-being, my hubby's, being and my two labs. The abuse was non-stop. Knowing what the toxic emissions was doing to residents and pets health and well-being, it was just plain wrong. I felt I had to fight for everyone and that if I didn't I was letting the residents down.
Eventually after feeling totally burnt out, and spending close to a month crying, and not wanting to get out of bed to face the day, I decided enough was enough. I handed the reigns over to someone else so I could focus on my true passions and what excited and inspired me in my life.
5. What are your biggest passions?
Fitness, I love helping people transform their bodies. I love seeing the changes that take place physically and mentally and how excited they are when they can see the results that they previously thought weren't possible.  Experiencing those changes with them, is so inspiring.
Being involved in advocating the safety and welfare of animals. I have a never-ending love and compassion for animals.
6.  What is your favorite quote?
Ohhhhhhhh, Laura, wow, that's good question… I have several.. I call on them when I need them or when I want to share them with someone who I feel needs a caring virtual hug or some inspiration.
Mandy's Favorite Quotes:
"A goal without a plan is just a wish."
~ Antoine de Saint-Exupery
"Don't you dare, for one more second, surround yourself with people who are not aware of the greatness that YOU are."
~ Jo Blackwell-Preston
"Wouldn't it be powerful if you fell in love with yourself so deeply that you would do just about anything if you knew it would make you happy? This is precisely how much life loves you and wants you to nurture yourself. The deeper you love yourself, the more the universe will affirm your worth. Then you can enjoy a lifelong love affair that brings you the richest fulfillment from inside out."
~ Alan Cohen
"We are each gifted in a unique and important way. It is our privilege and our adventure to discover our own special light."
~ Mary Dunbar
"Many of life's failures are people who did not realize how close they were to success when they gave up."
– Thomas Edison
7.  What is your favorite, can't live without food?
It's more a "green food" supplement. That's Vital Greens, with greek yoghurt and blueberries. I look forward to it every day.
8.  What are the top 3 items in your grocery cart?
Baby spinach leaves, capsicum (bell peppers), greek yoghurt, red onions (oops that's 4)
9.  What is something most people don't know about you?
I'm the biggest sook in the world when it comes to animals.
I'm shocking at saying "no" when it comes to helping people out.  Even when I'm overbooked at work and personally I often say "yes" and my hubby shakes his head and rolls his eyes as if to say "here we go again, what has she got herself into this time!".
I don't like getting my photo taken. Most of the photos that have been taken of me over the years are of me messing around, so I don't have to act serious or strike a pose in the photo. When I look back at them all I just crack up laughing.
I'm quite hard on myself when it comes to getting things right. I tend to judge myself. I'm pretty good at snapping myself out of it though. I've learnt from experience how to do this, and I have my mental tool bag of goodies to do that.
10.  What do you have planned for the future? business, personal or both.
I'm in the middle of re-branding my business at the moment. Offering personalized services soon at MandyGibbons.com. I can't wait, I'm so excited!
It's going to be a lot more up close and personal and really get into the nitty gritty of transforming your body, and truly reaching your fitness awesomeness.
Busting to tell everyone about it, but have to wait for a bit.
And going away more to spend more time with my hubby and furry babies. We've found a small place we love to stay, not too far from my own home town, on a farming property, only 5 mins from the beach. We take Arnie and Louie, go for walks along the beach, feed the rescue animals there and catch up with friends and family.
11.  Where can we find you on the internet?
At Virtual Fitness Trainer. http://virtualfitnesstrainer.com/
And my Private Membership site where I help my clients ramp up their fat loss, lean muscle, motivation, nip their nutrition in the bud and provide a supportive, caring community. I love my members so much!
Free Fitness magazine "Fun, Hot, No BS, Fitness!"