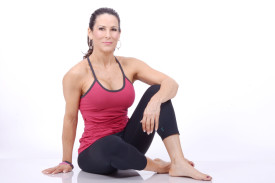 I love the Nancy Rose Performance philosophy that a well-designed workout outfit can not only help you look better on the outside, but also feel better on the inside.
I truly believe that when we love what we are wearing that it radiates from the inside out.  Our confidence is lifted, we feel pretty and our self-esteem is kicked up a notch.  The days of wearing on old ratty, body covering gym outfit should not be in your wardrobe.
Not matter what your shape; size or fitness level feeling good in your skin and feeling good in your clothes makes you feel good.  It's not about wearing tight clothes it is about finding the right clothes for your body type and shape.
Nancy Rose Performance workout clothing is functional, comfortable and fashionable.  The colors are vibrant so you can choose a color that reflects your individual personality and the designs of the clothes are like ones you will not see anywhere else.
Nancy Rose was a nationally ranked elite gymnast who turned her obsession with fashion and fitness into Nancy Rose Performance.
What I love the most about Nancy Rose Performance are the figure flattering styles that I have never seen in other workout clothes.
One of my favorites is the Releve Tank Which I am wearing in the photo above.  I LOVE it.  I feel like a ballet dancer.  It wraps around the body and is so figure flattering.  Everyone at the gym asked me about it and where I got it.  I forgot to tell you the best part about it.  The built in bra!! OMG, full support and coverage.  You will love it.
The Capri Plank Crop Pants are like a second skin!  They hug in all the right places to give you that smooth sleek line.  It's like a bra for your booty!
After my workout I took off my sneakers and put on a pair of pretty flip-flop sandals and did my "mom" errands feeling comfortable and fashionable.  If you are like me, I LIVE in my fitness clothes.
About the Green Bars
Nancy Rose Performance believes that a full, happy and healthy life begins on the inside. The three green bars you'll find on each of our pieces represent the inner qualities that inspire us.  Just like I help woman become healthy from the inside out!
Balance: When you have life balance you'll have more happiness, confidence and success.
Harmony: When your mind and body are aligned, you can go further than you ever imagined.
Vitality: Practicing balance and harmony will unleash your true vitality, helping you feel more empowered, more accomplished and more determined than ever before.