Description
Vision Board Workshop
Intentionally Manifest your Dreams at the CREATE YOUR LIFE VISION BOARD WORKSHOP. A FULL-DAY IMMERSION TO FOCUS ON YOUR AUTHENTIC LIFE AND YOUR IDEAL OUTCOMES.
We are so excited to be hosting this Vision Board Workshop!
FEBRUARY 9th, 2020
9 AM to 4 PM
Cost: (priceless) Really $65
Boca Falls Clubhouse – West Boca
WORKSHOP OVERVIEW & DETAILS:
Yes, this is a full-day workshop giving you all the tools you need to really dig deep and create your dream life vision board. Get ready to roll up your sleeves and dream big ladies. Why a full day? Great question. This is not your ordinary vision board where you sit cut and past and then forget about your vision board.
You are going to take the time to truly think, get clear, feel and create. Through interactive activities, journal prompts and more. You are going to have an AMAZING day with like-minded women who want the best in their lives.
Welcome To The Shine Bright 365 Vision Board Workshop
NOURISHMENT FOR YOUR SOUL WiLL BE SERVED
BEVERAGES: Coffee, tea & water.
SNACKS: Healthy snacks to fuel your creativity.
LUNCH: Healthy lunch will be served vegetarian/vegan-friendly.
WHAT TO BRING/WEAR: Sweater & wear comfy clothes
If you have any questions please email: [email protected]
Your Workshop Leaders
Laura London & Sally Spear
Intentionally Manifest your Dreams at the CREATE YOUR LIFE VISION BOARD WORKSHOP. A FULL-DAY IMMERSION TO FOCUS ON YOUR AUTHENTIC LIFE AND YOUR IDEAL OUTCOMES.
Most of us have fleeting ideas of what we want to be, do or have in our lives. But they remain just that: fleeting. After all, who has the time to intentionally get clear about what we want to create?
Well, everyone from Katy Perry to Ellen Degeneres to Oprah Winfrey swears that they intentionally created outcomes by using a simple tool: Vision Boards. A Vision Board is a way to sell your own ideas to yourself, to anchor to your dreams and to allow the magic of manifestation to work in your life. Finally!
As someone who has made our own Vision Boards (and manifested some amazing results!), We've learned it's more than just slapping a picture onto a poster board. It's about first getting clear on your authentic life, letting go of what's in the way – and then clearly connecting with your dreams while designing a vision that calls to you.
That's why we are leading this  CREATE YOUR LIFE VISION-BOARD WORKSHOP… to give you the space you need to intentionally define your dreams and create a Vision Board that will effortlessly attract your ideal outcomes to you!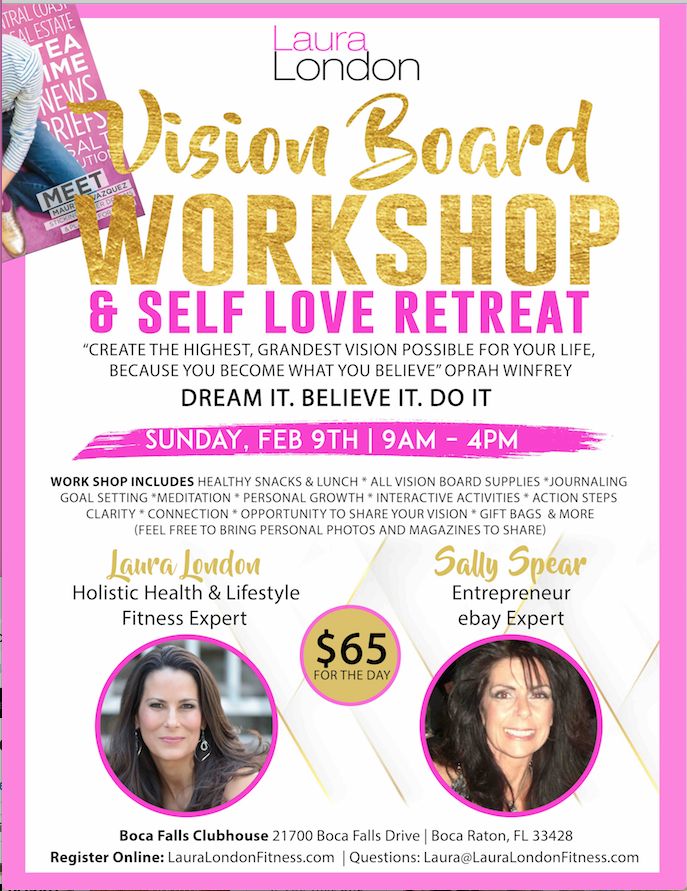 HERE'S WHAT YOU'LL GET
Clarity on what you really want (No more settling for someone else's dreams) F Space and time to map out your ideal outcomes in each area of your life.
Connection with like-minded peers (No negative Nellies permitted)
A method to clear out the natural "gunk" that arises (Time to let go!)
All the tools and time to create your own powerful Vision Board (You don't have to bring a thing. I've got all the materials you need right in the room!)
Your very own Vision Board to take home and effortlessly attract your ideal outcomes in the months ahead.
A full day of breathing room and dream-time. (The very thing you keep telling yourself you'll give yourself but never do!)

Topics include:

Prioritizing Key Areas of Focus

Exploration of Obstacles and Solutions

Goal Setting Techniques

Vision Boarding Exercise

Guided Workbook

Vision Board Supplies

A Creative Way to Get Clear on Your Dreams!

** If you would like to bring along a photo of yourself, printed pictures or special scrapbooking supplies feel free to do so as well.