What Are Ionic Elements?
Why do we need ionic elements? We all know that the soil is not the same as it was when our parents were growing up. Purium Ionic Elements help to replace vital minerals that are lacking from our diet.
Modern agricultural practices of mass production and over farming the land has left our precious soil depleted. The vital naturally occurring minerals our bodies needs are missing. Even people who eat a diet high in fruits and vegetables are not getting the minerals the need.
The leading sports drink has 2 electrolytes. Purim Ionic Elements has 72!
Purium Ionic Elements is a specially formulated combination of Fulvic acid and ocean trace minerals, which makes it is a great source of magnesium and other important nutrients such as electrolytes.
Facts:
Your body depletes 20 important minerals every time you sweat and workout
Minerals help your body build energy and endurance
Most energy drinks have only 2-3 minerals
Purium's Ionic  Elements has 70 minerals to replenish your body
If not replaced, over time your body starts to suffer, which can lead to body aches, muscle aches, headaches, fatigue and injuries.
What are Ionic Elements?
They are elements, you remember the periodic table of elements don't you. Did you have to memorize them like I did in school? Copper, selenium, iron, etc.
Elements make up our world and our bodies. If we are lacking in these extremely important elements we can have all sorts of health concerns.  You are a walking science experiment with many chemical reactions happening inside of you all day long.
Our bodies need trace minerals in very small, balanced amounts every day to function properly.
It is  hard to get these minerals from today's food sources. Purium Ionic Elements come from plants and the ocean where they are mineral rich and in their proper proportions.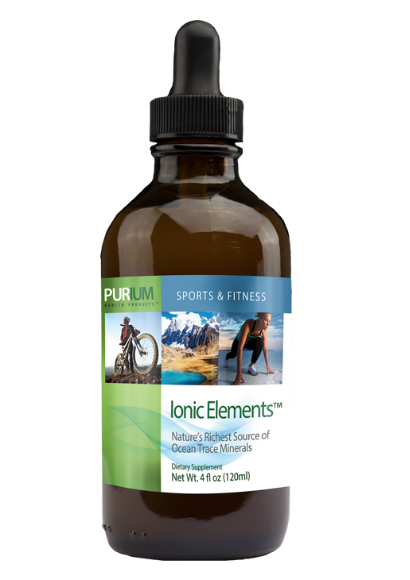 The Importance of Ionic Minerals
Every day your body needs ionic and trace minerals to conduct small tiny electrical impulses.  We are all made of energy. Think of your heart and your brain they both function with electrical impulses.  Ionic and trace minerals are part of what make them function at their best.
"Experts estimate 90 percent of Americans suffer from mineral imbalance and deficiency."
Taking a man made chemical laden vitamin pill with "minerals" is not the same as taking Purium Ionic Elements. Pills are not living, they are processed and have no "CHI" or life force which, lacks an electrical charge. Your body has to work super hard to digest and process them.
I have been using Purium's Ionic Elements in my green smoothies and power shake for years because, I know how important they are to my health.  This is one of the ways that my body functions in tip top condition all year long. That is why, I would not be without them.
Description
Over 72 Ionic trace minerals
Ocean & plant derived minerals
Super charged humeric and activated fulvic acid minerals
Whole Food Nutrition for Optimum Health
Non GMO, USDA Organic, Gluten Free, Soy Free
Purium Ionic Elements is a specially formulated combination of fulvic acid and ocean trace minerals.
Purium Ionic Elements
Can aid in the elimination of heavy metals
May reduce the effects of aging & increase circulation
May promote restful sleep
Can support healthy immune function
May promote the healthy growth of hair, skin & nails