ESSENTIAL OILS
I have been using essential oils for a long time and am a huge fan of these healing gifts from Mother Nature. I am sure you have heard about them and their amazing benefits. I truly believe that every home should have and be using essential oils because they are a great non-toxic way to treat so many common ailments and issues.
1. Lavender Oil
Lavender is the Swiss Army knife of essential oils. It has so many different uses. It's great for stress reduction and to relax the body.  I love to put a drop of this lavender oil on my pillow at night for a restful nights sleep.
One of the many benefits of lavender essential oil is it's great for anything skin related. It is great for cuts, burns, and scrapes and it also is a natural anti-histamine. So if you have a bug bit put on the spot and it will go down.  Lavender oil is perfect to take camping.
Lavender is also antibacterial so if you are still using those toxic hand sanitizers it is time to get rid of them.  I keep lavender in my gym bag and use it before and after I workout.  Keep it in your babies diaper bag too.
2. Lemon Oil
Lemon is a natural detoxifier, it's great for helping with liver, kidney and bladder conditions.  I like to put a few drops in my water to help with detoxing and water retention.
Lemon essential oil is one of the most refreshing smells and it is a natural pick me up.  Another benefit of lemon is that it is great for cleaning around the house.  You can create your own natural cleaning products with essential oils. It is also great for getting gum off of things.
Lemon also has antiviral, anti-fungal, and antidepressant properties. It is a must to have in your wellness toolbox.
3. Peppermint Oil
Peppermint Oil is another very useful oil.  It is great for helping to reduce fevers naturally.  Rub a little on your feet and a drop across your forehead (make sure to wash your hands).  If you are having a "Private Summer"  a.k.a, a hot flash, just take a drop of peppermint oil and rub it across the back of your neck, it will help to cool you down.
Peppermint is also great for mental focus and alertness.  Forget that 3 PM coffee and put a drop of peppermint oil in your palms and inhale it.  Instant wake up!  Peppermint is also to use as a natural mouthwash, add one drop to a small cup of water and rinse.  It is all natural, most mouthwashes are filled with chemicals, artificial colors, sweeteners and alcohol.  Your mouth will love you for this one small change.
My "workout water" I take a large glass water bottle like my VitaJuwel and fill it with water and then add one drop of peppermint oil and one drop of lemon oil.  Keeps me refreshed throughout my whole workout.  One more tip! Peppermint is also good for digestion.
4. Eucalyptus Oil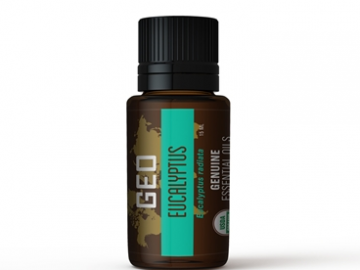 Eucalyptus is a very powerful oil. It has analgesic, antibacterial, anti-infectious, anti-inflammatory and antiviral properties. Wow, that is a lot of power for one small oil.
I use this oil when I have a cough or cold.  I take a drop of Eucalyptus and place it in my palm, then I cup my other hand and make a natural inhaler and breath the oil through my mouth.  It helps to sooth my respiratory tract.
I also use this powerful oil to clean my bathrooms instead of bleach, it kills the germs and smells so much better.
5. Tea Tree Oil
Tea Tree oil is also known as melaleuca, from the melaleuca tree.  It has anti-fungal, antibacterial and Analgesic properties.  One thing it is really good for is acne, you can dab it on any eruptions and it can help to heal the outbreaks.
If you have a cut or skin infection melaleuca essential oil  is your go-to oil.  If you ever have a pedicure and get a little nick, put this one right away to avoid infection.  It is also great to use as a mouthwash, just one drop in a large glass of water.  Try adding a drop to natural dryer balls to freshen your laundry.  There are so many different uses for Tea Tree oil.
Want to learn more about essential oils?
I had the pleasure of interviewing Randy Carr, the formulator for GEO essential oils. I love GEO because they are organic and give full disclosure on their website as to where the oils come from and what is in them. GEO Essential Oils is not a network marketing company, I had an experience with one company who has great essential oils but all the beauty care product they recommended in their natural skin care line, had highly toxic chemicals in them. It was not a true fit for me and went against all that  I believe in. That is why I was so happy to find GEO Essential oils.
Interview with Randy Carr, Essential Oil Formulator
Listen to my interview with Randy Carr, Essential Oil formulator as we discuss the "Top 5 Essential Oils Every Home Should Have" and more.