Simply Earth Essential Oils is a beautiful essential oil company that prides itself on its mission. Making your home toxin free. Simply Earth is a small, family-run essential oils company based in Hingham, Wisconsin.
Like most of us, they were tired of overpaying for oils and frustrated by using natural products that didn't always work. Knowing that there were others who were also upset with the same situation, they decided to do something about it–provide pure and affordable 100% pure essential oils.
What I love about Simply Earth Essential Oils
Simply Earth teaches you how to use your essential oils so you use them and get the most benefits from them. Making your home Toxin-Free is simple, fun and easy to do because they give you the "How To". You are going to love all the creative ways you can use your essential oils. When you join the monthly subscription box (May's box is $189.04 for only $39) you also get free access to the Essential oil Hero Course where you can learn how to use essential oils with confidence and clarity.
My two favorite recipes from the May essential oil box are the moisturizing hair mask and the cooling spray. Since coloring my hair, it has been dry and dull. I have been doing lots of hair masks to keep it healthy. My hair loved this moisturizing all natural hair mask and the recipe was super easy to follow.
The cooling spray is great to keep on hand in your purse. I live in Florida and the super hot summer is on its way. This is great to spray on when you are feeling overheated. If my hair is in a pony tail, which it usually is. I spray it on the back of my neck for a gentle cooling effect. Love it!
Watch The Video Review Below
.
The May Monthly Essential Oil Box
I was so excited when the May essential oil recipe box arrived. I opened it up right away. Each monthly subscription box comes with 4 essential oils, label stickers and six recipe cards. Plus it includes extras to use to make the amazing recipes. This month it includes a spray bottle, Aloe Vera and "Homemade" paperboard tube.
May Simply Earth Essential Oils
Ladies Choice – Great for soothing
Lemon – Energizes, cleans, stimulates
Marjoram – Warms, calms, soothes
Spearmint – Uplifts, aids digestion
May Recipe Cards
Mother's Day Diffuser Blend
Cooling Spray
Moisturing Hair Mask
Beauty Skin Care Balm
Turmeric Infusion
Flow Roll on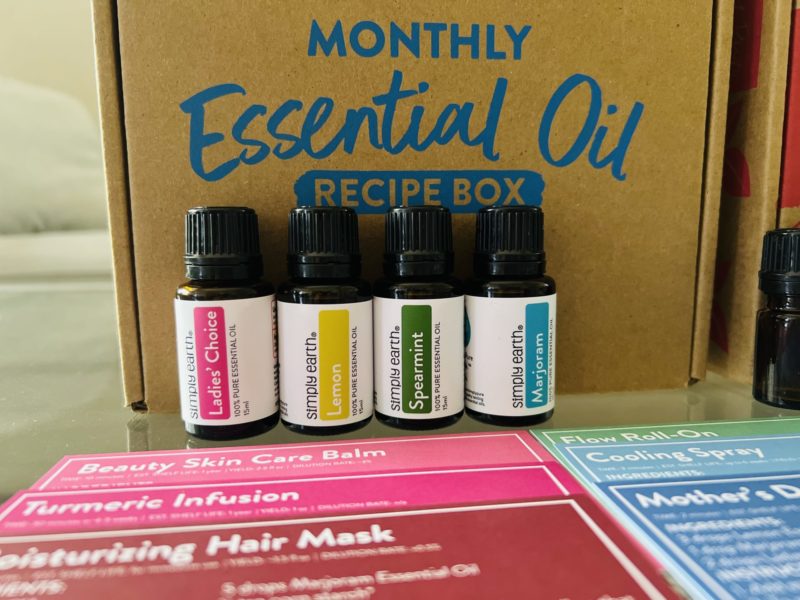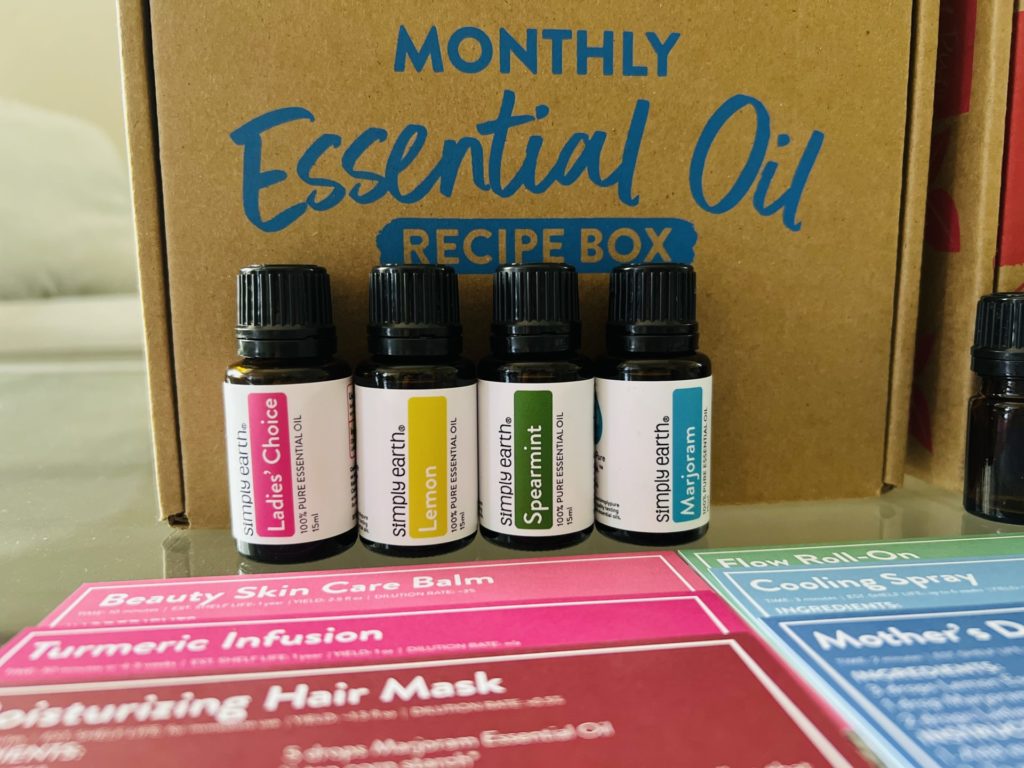 Simply Earth Big Box
The BIG BOX comes free with your first Simply Earth subscription box order. Packed with $45 worth of supplies you can use to make six months' worth of recipes. Plus, you automatically get the big bonus box shipped to you with every 6th monthly subscription box.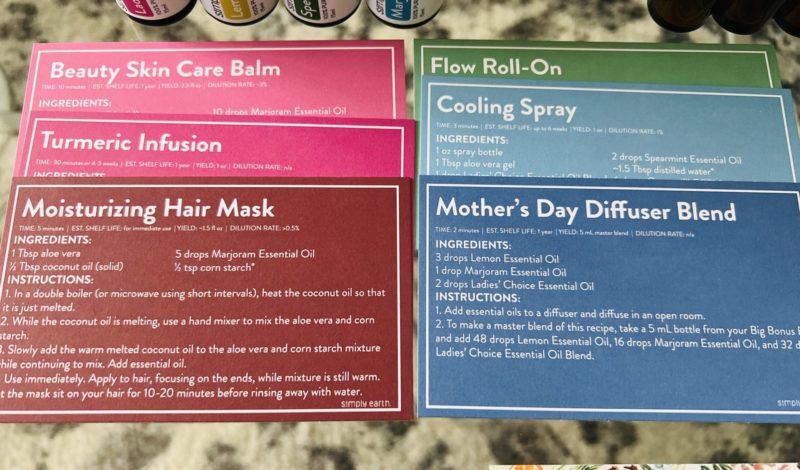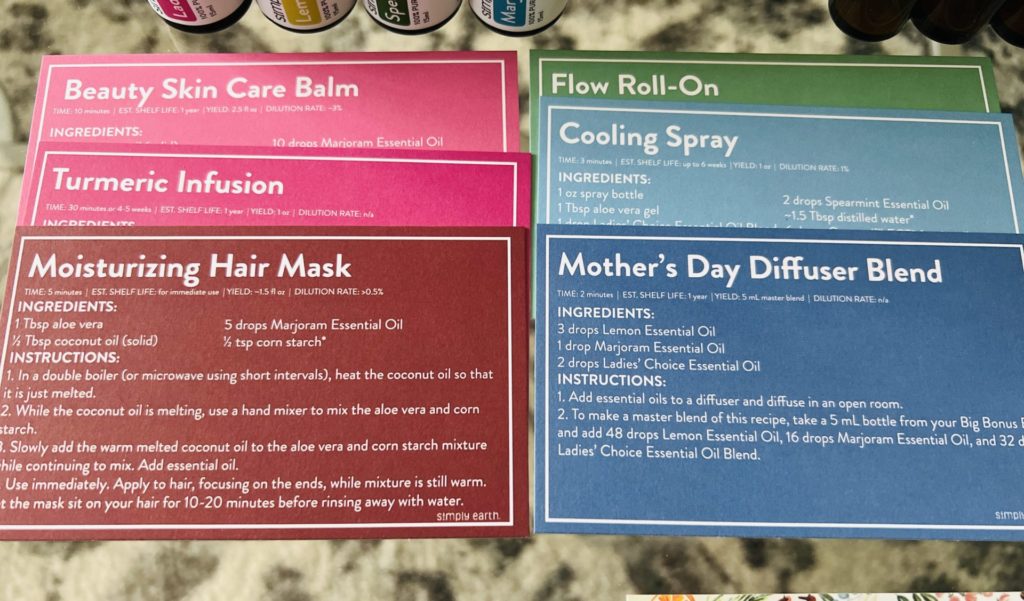 Giving Back To The Community
Another amazing thing about Simply Earth, is that 13% of their profits are donated each month to organizations working to help end human trafficking. Learn more about that here. I was humbled and impressed with the number of partners that the company has teamed up with and that are on the front lines of fighting this injustice.
Where Do Simply Earth Essential Oils Come From?
Simply Earth, sources their plants from farms located all over the world. Every batch is ethically sourced from small farms. As a company fighting to end human trafficking, they are passionate about sourcing oils from ethical farms. The oils have no added fragrance or fillers. Ever. Simply Earth does not add any bases, carriers, paraffins, or additives to any of their oils. They test every batch to ensure 100% purity.
"Loved from farm to bottle" is the motto at the Simply Earth essential oil company.
Simply Pure Promise
No artificial fragrance. No fillers.
Nothing but what's on the label.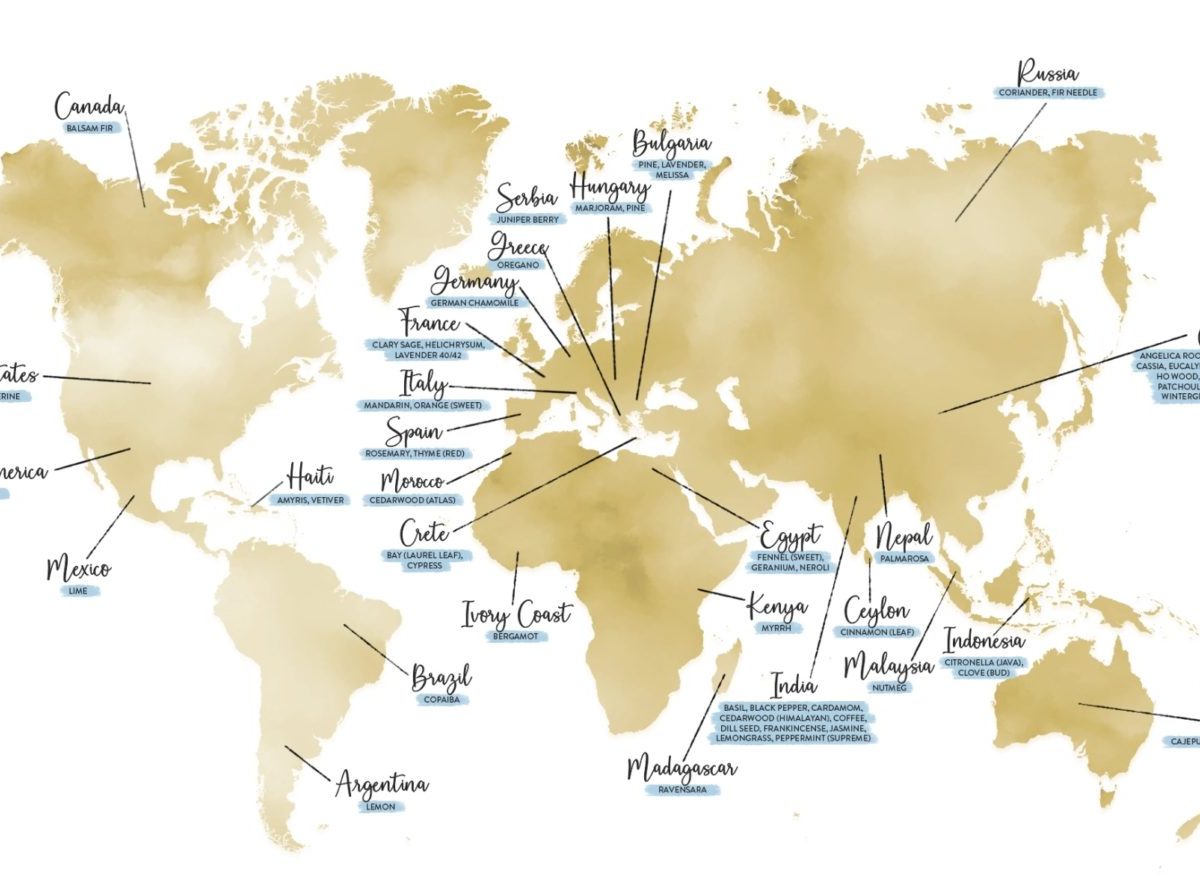 BENEFITS OF SIMPLY EARTH ESSENTIAL OILS
Essential oils are 100% pure, undiluted, GC/MS tested through rigorous third-party GC/MS testing to check for purity and composition
Simply Earth does a remarkable job on essential oil education. They offer a numerous videos on essential oil uses and a free downloadable dilution chart PLUS a
The company donates 13% of their profits to organizations that fight human trafficking. 13 is the average age of a child being entered into the rings of human trafficking.
The Simply Earth return policy is a full year (365 days) for a full refund in the form of store credit.
Shipping is free for continental U.S. states on orders $29 and up.
Simply Earth offers a super fun, easy monthly essential oils recipe box subscription. For just $39/ month you get 4 x 15 ml bottles of essential oils, recipe cards on how to use the oils, and some extras you'll need to complete the DIY recipes.
Plus, when you join the subscription box you get the free ESSENTIAL OIL HERO COURSE a $250 value. You are going to love it!
Compared to other essential oil companies, prices are fair and honest.
SHOP SIMPLY EARTH and enter code LauraLondonFree to get a $40 e-gift card with your first subscription.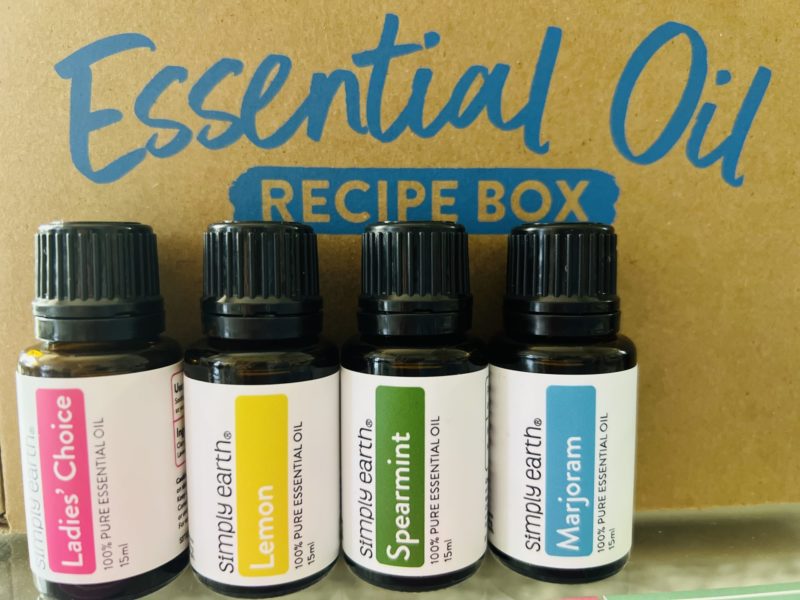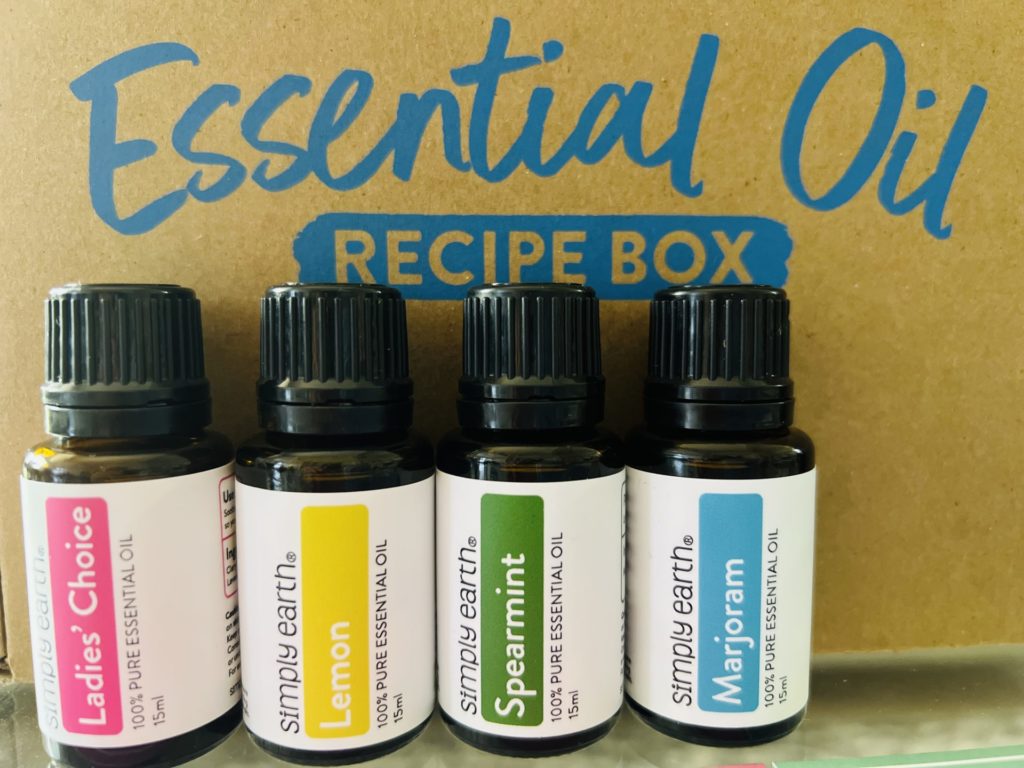 Simply Earth Subscription Box
What really makes Simply Earth stand out among many of the other essential oil companies is their monthly subscription box service.
The monthly subscription box contains 4 full-size, 100% pure essential oils, essential oil recipe cards, and extra items you need to make the recipes. Each box is themed based on the month.
Each Simply Earth subscription box is only $39. And there is no long-term commitment. You can cancel anytime. Plus you can score an even better deal by using the exclusive coupon code below.
Included with your first month's Simply Earth subscription is a Simply Earth big bonus box. The big bonus box contains $50 worth of supplies which includes hard oil, spray bottles, roller bottles, and more!
Plus, you automatically get the big bonus box shipped to you with every 6th monthly subscription box.
Subscription Box Bonuses
Included with the Simply Earth monthly recipe box is free access to a $250 value essential oils course called "Essential Oil Hero Course" so you can learn how to use your oils safely and properly.
Plus, you also get exclusive access to members-only sales. And if you receive an essential oil in your monthly recipe box that you already own or that you just don't like Simply Earth will allow you to exchange it for a different oil. How great is that.
If you decide you would like to cancel your Simply Earth subscription that is no problem at all. It is super easy. When you subscribe to Simply Earth's monthly recipe box there is no long-term commitment. You can cancel at anytime. All you have to do is log into your account and click on the manage my subscription link.
Click here to get the free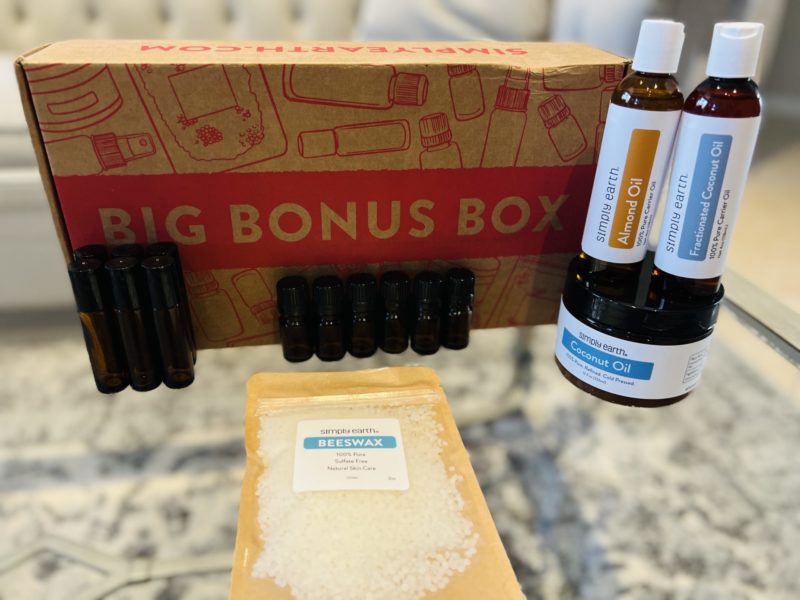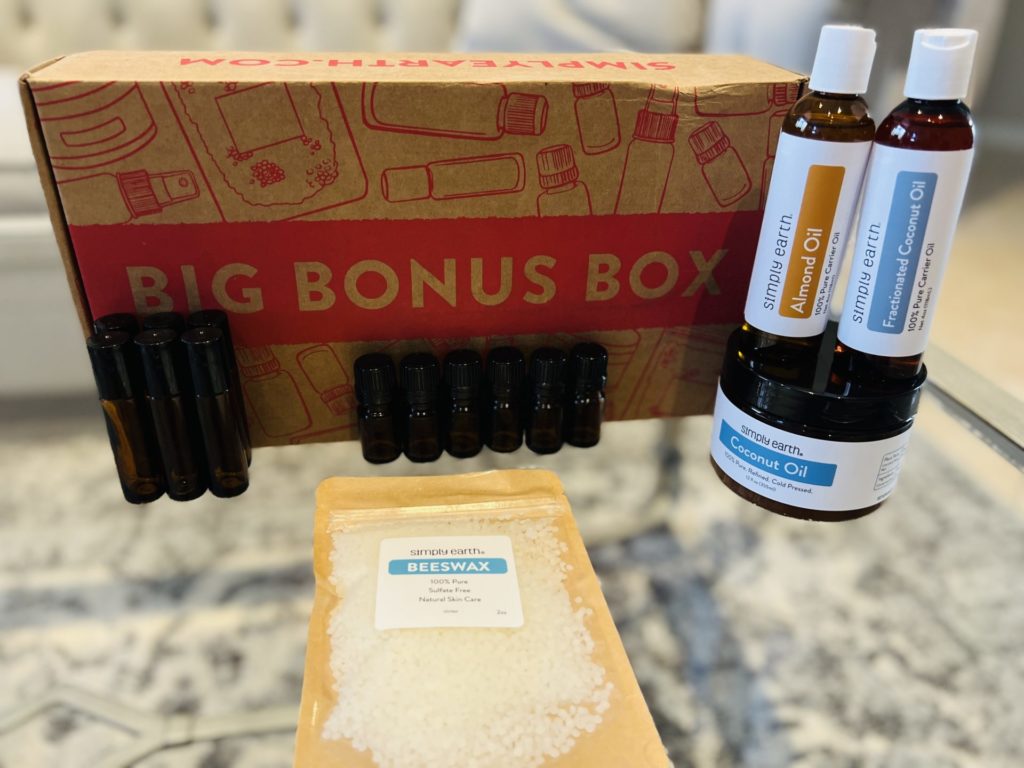 Simply Earth Coupon Code
Simply Earth has provided me with a coupon code to share with my readers. Use the code LAURALONDONFREE to receive a $40 gift card with your initial subscription box and bonus box. You can use the $40 gift card on a future purchase or on your next box.
With the coupon code, you will receive the monthly subscription box, the bonus box as well as a $40 Simply Earth gift card all for only $39. Hello essential oils.