I am so glad you are here! Have you been looking, no, searching the web wanting to get your body back? Are you confused by all the information out there? Not sure where to start?
Trust me, I know how you feel. I was right where you are and it was overwhelming. But don't worry, you've made it this far, and I have broken it all down for you so you can get your hot and healthy body back. Together we can do anything!
About Laura
By trade I'm a Board Certified Health Counselor (AADP), holistic weight loss coach & fitness specialist. But really, I am a fun loving free spirit, a wife of over 25 years, and a mom of 3, who decided to step out of her comfort zone and reinvent her health, body and life in her 40s. I have not looked back since. Learn more about how I got started in health and fitness.
Are you like I was? Tired? Out of shape? Overweight? Thinking, "will I never be able to wear shorts again?" Did you wake up one day, tired and puffy, thinking there has to be more to life than just work, kids, and laundry? Have you eaten too much, cried too much, and possibly forgotten what a good hair day looks like? I made a change, and so can you!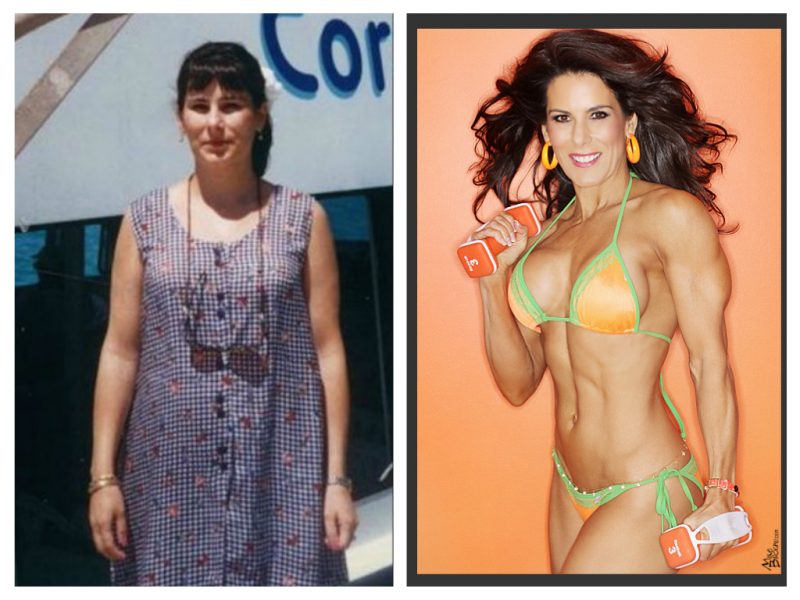 I want to share with you the tools you need to love your body TODAY, TOMORROW and EVERYDAY. Let's start loving the skin you are in NOW. When you do this, the magic starts to happen. Trust me on this one ladies, I know what I am talking about.
Ready to get started? Here's how! Register and download my FREE E-Book – 10 Surprising Secrets To Getting Hot and Healthy At Any Age.
Testimonials
Hi Laura,
I wanted to share with you the benefits that I have gotten with your green smoothie recipes. My favorite is the kale and spinach. The cracks on my heals… gone. A battle for twenty years! Heart burn problems…. Gone! My skin is soft. No more rough elbows. My hair seems longer. Face has more color. Lost 4 lbs. when I started drinking it 1 month ago I had absolutely no idea about any of the benefits. I am now sharing this with my friends. Thank you! *Results may vary
Carol Hickman
I admire your talent. I didn't think it was possible to lose weight after 40 (well, I'm a few days from being 40) but you changed that around. You soooo inspire me.
Thank you sooo much Laura for EVERYTHING! I appreciate you so much and am so lucky to have you as my friend. I look up to you in so many ways and knowing that I have people like you supporting me in this is so awesome and rewarding! This journey has been the absolute hardest thing I have ever done physically and mentally, but I have become a different person, a stronger one.
You told me once to "follow your dreams because you never know where they will take you", and I am still trying to pinch myself for all of the amazing things that have happened in my life this year ever since I decided to go for my dreams. Thank you for your inspiration and guidance and courage to step out there and make a difference in the world. In this world of negativity, it is time for the positivity to shine! *Results may vary
Shawna Belza Fields
Hi, my name is Sue and I live in North England I had been overweight most of my adult life, putting weight on, going on a silly diet, maybe losing a little, but of course, it would all come straight back on very quickly. I am type one diabetic, which means I am insulin controlled, and I blamed my weight a lot that. I just made excuse after excuse.
Then, in 2010, I had my second marriage, and at the time, I thought I looked like the bee's knees. I was quite overweight, I was just trying to say I didn't care, and I still looked great. I couldn't look at my wedding pictures without feeling sick with disappointment and embarrassment.
With Laura's help and dedication, I have managed to drop the 30 lbs. and feel like a brand new me! Working with you one on one was the best decision I have ever made.
Sue B.
Laura London is the best Health Coach, Trainer, and Soul Sister I've ever worked with. I hired Laura to help "love & whip" me into fab form for my 40th birthday. I chose Laura because I wanted to build lean, yet luscious curves, and I don't like being trained to look like a guy – and wow did she deliver! I worked hard with her help, and the effort paid off.
I even flew her from Florida to LA to attend the party because we became fast friends. I especially love how she embodies what she teaches, to shine, look great, feel vibrant, AND reach our health goals from a deep sense of self-love from the inside out.
Jennifer Joy Jimenez
My Favorite Posts
Rebounding Exercises For A Toned Butt (Feel The Burn) – Rebounding workouts for women who want to tone their backside. Are you rebounding at home? Rebounding for weight loss or rebounding for health? Well a mini trampoline workout is great for the whole body.
Featured Products
Take a look at some of our most popular products and programs. Hundreds of women and men have been improving the lives through my fitness programs, recipes, and more.
My 7 Day Hot and Healthy Detox Program is not your average Detox program; it is not about deprivation! You are going to …
Let's talk and create a customized health and wellness plan for you. Dive into all areas of your life – …
Health Coaching – Let's connect and create a customized health and wellness plan just for you. 55 Minute …
The Hot and Healthy Body Academy is the missing instruction manual to your body. Whether you're a beginner or advanced, …
Hello Gorgeous! So you are here thinking heck yes! I would love to be slim in just 7 days. What has Laura come up with …
One of the main concerns women write to me about is how to get their body back after having children and raising a …
Your food does not have to be bland and boring to be healthy. My Hot and Healthy Body Cookbook is for you if you don't …
Losing weight doesn't need to be complicated. Try my 7 Day Goddess Juice Feast and unleash your inner goddess as …
Join the sisterhood of women across the globe who are getting hot and healthy from the inside out! With your free …
It's time to make green smoothies a part of your regular diet! This one change will have a huge positive impact on …