I am so glad you are here! Have you been looking, no, searching the web wanting to get your body back? Are you confused by all the information out there? Not sure where to start?
Trust me, I know how you feel. I was right where you are and it was overwhelming. But don't worry, you've made it this far, and I have broken it all down for you so you can get your hot and healthy body back. Together we can do anything!
About Laura
By trade I'm a Board Certified Health Counselor (AADP), holistic weight loss coach & fitness specialist. But really, I am a fun loving free spirit, a wife of over 25 years, and a mom of 3, who decided to step out of her comfort zone and reinvent her health, body and life in her 40s. I have not looked back since. Learn more about how I got started in health and fitness.
Are you like I was? Tired? Out of shape? Overweight? Thinking, "will I never be able to wear shorts again?" Did you wake up one day, tired and puffy, thinking there has to be more to life than just work, kids, and laundry? Have you eaten too much, cried too much, and possibly forgotten what a good hair day looks like? I made a change, and so can you!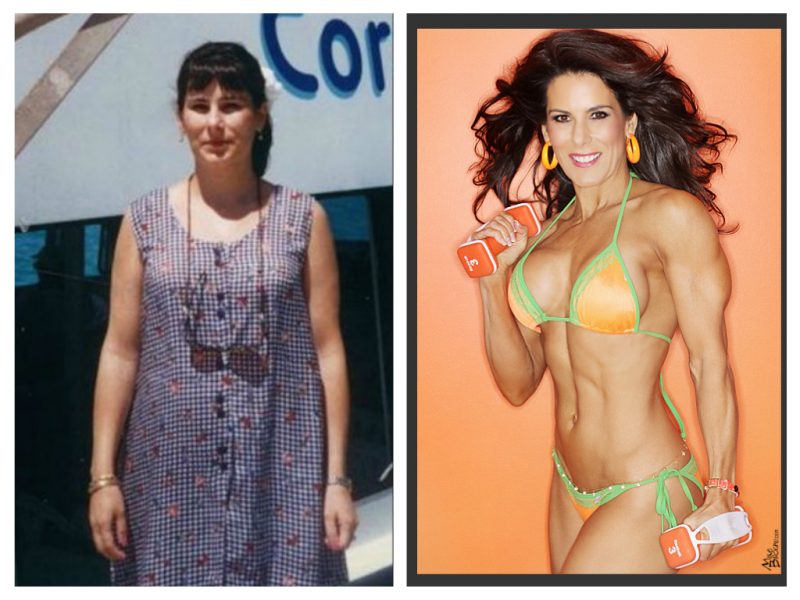 I want to share with you the tools you need to love your body TODAY, TOMORROW and EVERYDAY. Let's start loving the skin you are in NOW. When you do this, the magic starts to happen. Trust me on this one ladies, I know what I am talking about.
Ready to get started? Here's how! Register and download my FREE E-Book – 10 Surprising Secrets To Getting Hot and Healthy At Any Age.
Testimonials
One of the biggest things I was concerned about before my son was born was whether or not I'd be able to bounce back both physically and mentally. It was a real concern.
When I was pregnant I ended up gaining around 55 lbs. It stings to say it, even now. Everything I heard and read talked about 25-30 lbs being a realistic weight gain. I'm here to tell you, it doesn't always work that way. I enjoyed my pregnancy and would not change a thing, but after the baby was born I was ready to get back into shape.
I started working with Laura after the baby was born via Zoom. Who knew you could exercise and live in different states. I knew I was in good hands and she walked me through every step of the way to get my body back after pregnancy. Laura cares and it shows with every workout and conversation we had. Thank you from the bottom of my heart.
Katie M.
Hi Laura, I've been swearing by your ab workouts. I just wanted to say thank you. Women like you motivate me to keep my body in shape and stay fit. Everyone needs to know it is possible regardless of age. Way to be an inspiration! *Results may vary
Steff Seegar
When I read Laura London's Mission Statement "Inspire and motivate you to achieve your goal's and dreams and be your best at any age", the "at any age" really caught my attention. You see, I'm 56 years old and I have a dream of being in a figure competition. I know what your thinking, not a easy feat for sure, maybe even impossible.
Then when watching one of her YouTube videos (by the way I watch daily) she said if anyone had any questions, just e-mail her. It took some time for me to e-mail her. I didn't think she would answer because she is so big in the industry but one day I e-mailed her a simple question, "Did she think I was to old to get fit?" and you know what–SHE ANSWERED! That simple e-mail has changed my life!
It started a journey of fitness that I never want to end! I signed up for her coaching program and my journey started. Laura gave me the tools that I so desperately needed to get started and to stay focused. I now have a binder with her picture on the front that I take everywhere, and in that binder I have my daily eating plan that she wrote for me, my workout plan for each day that she designed for the goals that I wanted accomplish.
The day we set up for our phone consultation couldn't come fast enough for me! I was so excited you'd think it was Christmas morning! Laura is so sweet, she is the real deal and she really cares that you get the results that you want.
She answered ALL of my questions, we went through my exercise and diet plan, she even made me my very own personalized videos and how to work my upper and lower body that showed me how to get more out of the workout. She was actually talking to me in the videos, which really inspired me, like I was in the room with her! Then, she called back to check up on my progress!
Laura London has changed my LIFE! Everyone can see it! My body has never looked so good, I have muscles where I didn't even know you could get muscles. It's hard to put into words, the inspiration she has been to me! She has held my hand though this whole process, always encouraging me, never letting me give up.
Laura London really cares; I mean it when I say it, SHE CARES! I love the way I look and I have people who actually do not recognize me, loll. They want to know what I've been doing and they say I look so much YOUNGER. I have so much more confidence, and I am so proud of the way I look.
Laura, you live by your mission statement! I am so blessed to have you in my life and have you as a coach. I never would of thought I could look this good in a million years, but you knew I could. So, Thank You Laura, for getting me off the couch and into the gym!
I will have those Laura London's AB's! Your Fitness Friend for LIFE. *Results may vary
Luanne D.
Laura London is the best Health Coach, Trainer, and Soul Sister I've ever worked with. I hired Laura to help "love & whip" me into fab form for my 40th birthday. I chose Laura because I wanted to build lean, yet luscious curves, and I don't like being trained to look like a guy – and wow did she deliver! I worked hard with her help, and the effort paid off.
I even flew her from Florida to LA to attend the party because we became fast friends. I especially love how she embodies what she teaches, to shine, look great, feel vibrant, AND reach our health goals from a deep sense of self-love from the inside out.
Jennifer Joy Jimenez
My Favorite Posts
Rebounding Exercises For A Toned Butt (Feel The Burn) – Rebounding workouts for women who want to tone their backside. Are you rebounding at home? Rebounding for weight loss or rebounding for health? Well a mini trampoline workout is great for the whole body.
Featured Products
Take a look at some of our most popular products and programs. Hundreds of women and men have been improving the lives through my fitness programs, recipes, and more.
My 7 Day Hot and Healthy Detox Program is not your average Detox program; it is not about deprivation! You are going to …
Let's talk and create a customized health and wellness plan for you. Dive into all areas of your life – …
Health Coaching – Let's connect and create a customized health and wellness plan just for you. 55 Minute …
The Hot and Healthy Body Academy is the missing instruction manual to your body. Whether you're a beginner or advanced, …
One of the main concerns women write to me about is how to get their body back after having children and raising a …
Join the sisterhood of women across the globe who are getting hot and healthy from the inside out! With your free …