Description
When was the last time you sat down to enjoy a delicious meal, guilt free and did not worry about, counting calories, fat grams or points?
When was the last time you sat down to enjoy a delicious meal, guilt free and did not worry about, counting calories, fat grams or points?
Does the word "detox" bring up bad memories of liquid fasts, calorie deprivation and then eating everything in sight that you could get your hands on when it was finished? Been there done that!
Did you feel, guilty or frustrated because you did not have the willpower to resist and "detox" for more than 4 hours before you were going crazy from hunger? Feeling like you just wanted to curl up on the couch and cry because there was something wrong with you? Or, have you done cleanses that had so many steps and ingredients that you had to travel halfway around the world to buy?
Trust me, you are not alone in feeling this way. I felt that way too. Were you thinking there must be something wrong with me? There has to be a better way than starving myself and feeling hungry all the time. Eating salad for breakfast, lunch and dinner is no way for a girl to live!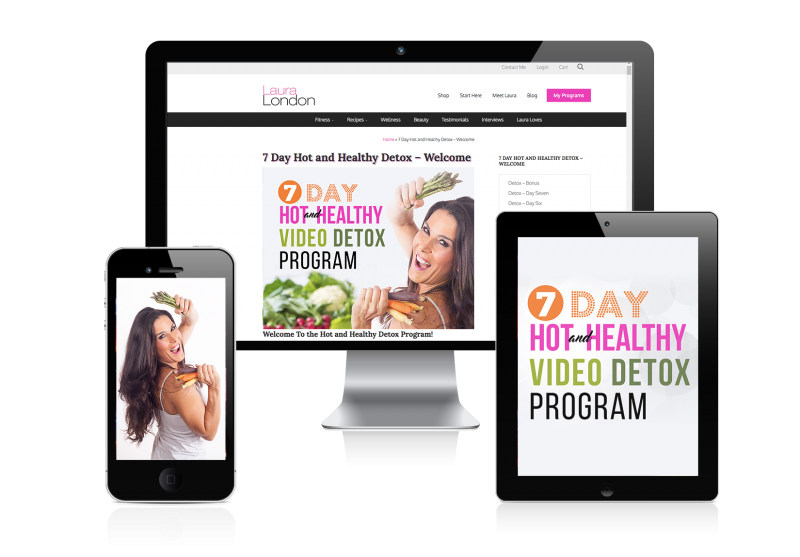 What is the Hot and Healthy Detox, and Why Is It Different?
The Hot and Healthy Detox is not about deprivation, oh no, quite the opposite. You are going to be creating simple and delicious meals that are quick, require a few ingredients and leave your body feel energized. You will eat foods that nourish every cell in your body and leaving out the foods that are hard for your body to digest. The result is a healthy, radiant you from the inside out.
The Hot and Healthy Detox is a video based program that is all online. Once you are registered you can log into your members only site and dive right in to the content. All the recipes are created for you in video form and downloadable PDF's with color images. You can go back and watch the videos as many times as your like.
Did you know that you don't need special supplements, shakes, or equipment to have the body of your dreams?
How do I know this? Because I was right where you are a few years ago. Tired out of shape and overweight. Thinking there has to be a better way. Being a busy workingwoman, a mom of 3 and a wife of over 23 years and hitting my 40 's (and then some) I don't have time to "diet", and follow crazy diet rules I am thinking you don't either. Aren't you tired of all the madness?
Looking back, I lost 30 pounds the hard, unhealthy, un-smart way only to gain it all back. Do you know what I am talking about? Have you done countless weight loss programs or how about cutting out a whole food group? (Which is just not natural), and then wondered what the heck was wrong with yourself? Thinking why couldn't I just not follow the plan? Sound familiar?
Have you exercised for hours in the gym, with little results and felt frustrated because the scale barley moved? Feeling like you just wanted to throw the scale out the window and scream, I AM DONE!
Have you ever felt like being healthy is just too much darn work, takes too much time and effort? Willpower seems like foreign language, and all you really want is big piece of chocolate cake?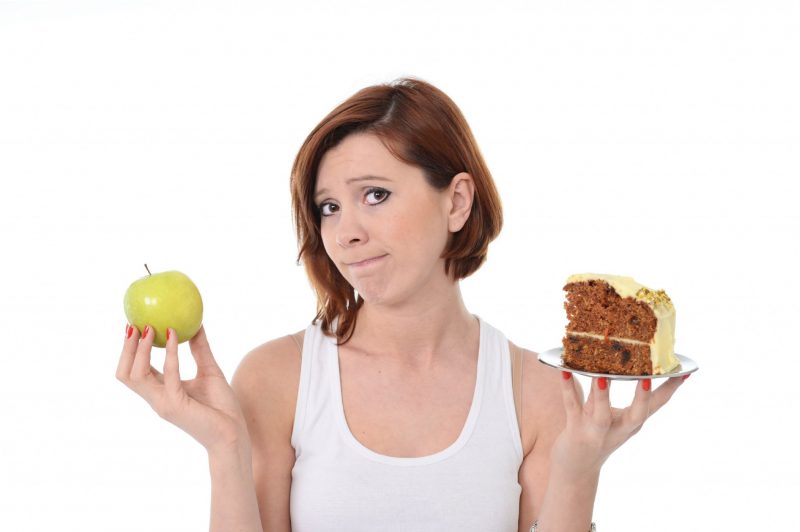 Are you ready to learn the secret that can change your life forever?
Eating whole real foods, give you real energy and real beauty from the inside out.
Counting nutrients not calories is the secret weapon you have been searching for.
Are you ready to?
Eliminate foods that are stealing your energy, so you can feel amazing in your own body.
Have amazing energy, that lasts all day.
Ditch the scale and kick it to the curb, because you finally have the knowledge you have been searching for.
Jump start your metabolism, which means healthy weight loss.
Learn to love the kitchen again, and create simple family friendly meals.
Kiss SUGAR, bloat and belly fat goodbye, once and for all.
Rock your sexy black dress, and feel happy and confidant in your own skin.
The Hot and Healthy Detox video program in like no other because we are doing this together. I am with you every step of the way for 7 days. We are going to step into the kitchen and create every meal for 7 days. It is like having me right there with you. You know we will have a lot of fun getting hot and healthy together.
Learn the 5 most inflammation causing foods and then watch your body de-bloat, distress and drop weight effortlessly.
But wait it gets even better, we are going to be preparing healthy and simple breakfasts, grab and go snacks and lunches and family friendly dinners in a snap. You won't be sacrificing taste for fast and delicious healthy meals.
The Hot and Healthy Detox is great for you if you work out of the house or work at home. The "Pack It Up System" you will have your meals ready to grab and go so you can get out of the house quickly in the morning and still eat healthy at work. I have thought of it all for you beautiful creatures.
Did You Know Inflammation = Weight Gain?
This program is priceless because I teach and lecture all over the country and to hire a holistic nutritionist with my expertise and experience not to mention the support that is provided in the Hot and Healthy Detox would cost you thousands of dollars.
You get 7 days of healthy, whole foods cooking, along with educational videos that you can watch in your pajamas. PLUS, you have me in your home for a full 7 days. It's you and me baby!
Take a sneak peek inside the hot and healthy detox program!
If you can hold a knife, chop, blend, and are ready to kick extra weight to the curb than I promise you the 7 Day Hot and Healthy Video Detox program is for you!
What Is Included In The Hot and Healthy Detox?
Great question! Here is what is included:
Prep Day – This is where we go over getting started. We will be creating some staple recipes like Heavenly Hummus that you will want to make over and over again. We will also create one of my most favorite salad dressings.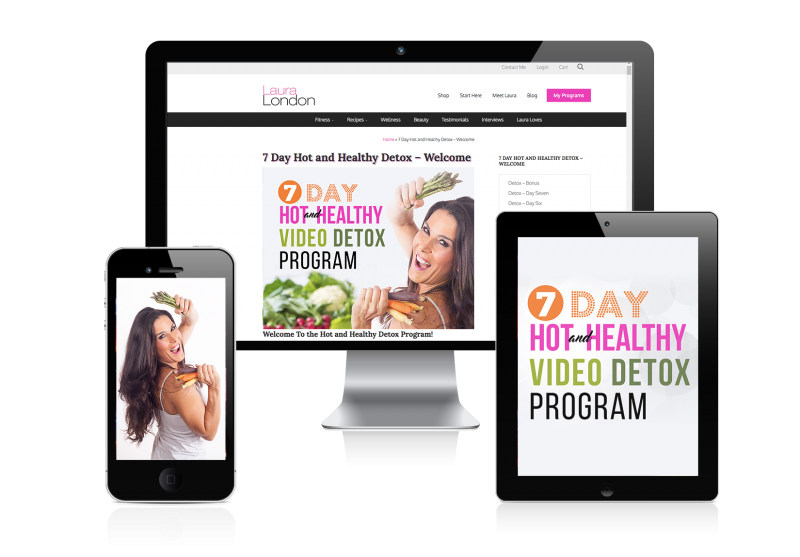 Day One through Day Seven – Daily Video Cooking Lessons
Breakfast
You will start each morning with a nutrient dense breakfast that will keep your body humming with energy; I am talking no morning slump or cup of coffee needed.
Snacks
Healthy snacks are an important part of the Hot and Healthy Detox and you will love learning to create new delicious treats. If you like chocolate I have a treat for you!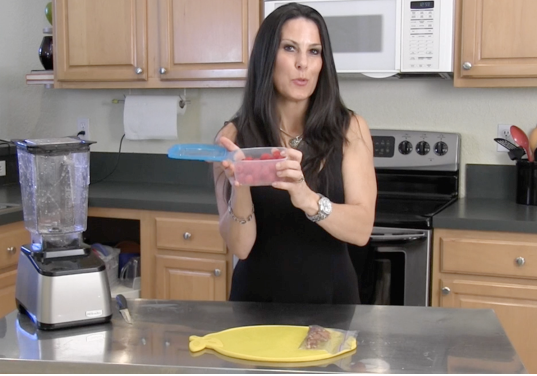 Lunches
Lunches are simple, delicious and filling and all made from whole natural foods. You will feel full and satisfied; in fact you may find it hard to eat everything! How great is that no deprivation, and the food is good for you.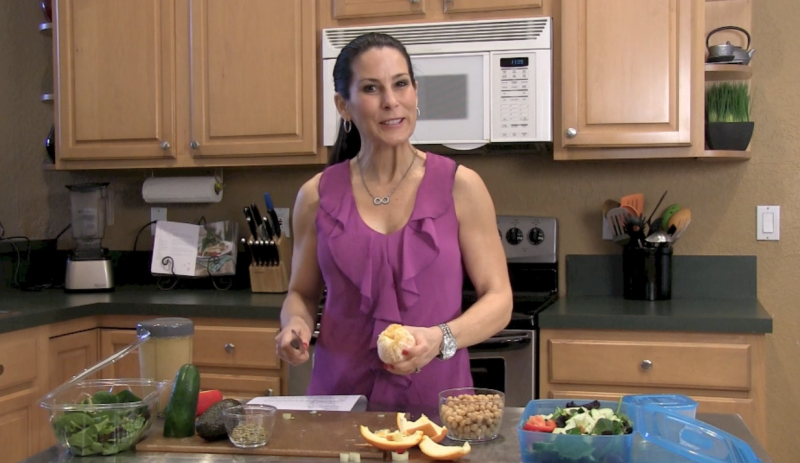 Dinners
You are absolutely going to love your new dinner recipes, which are hearty, healthy and delicious. You will learn how to create mouth-watering soups, sexy salads and my favorite beauty bowls, full of fantastic flavor.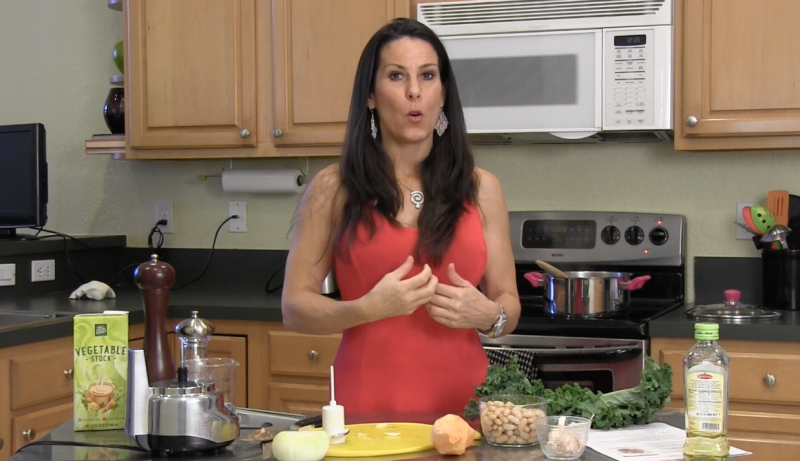 Love Notes from Happy, Hot and Healthy Clients: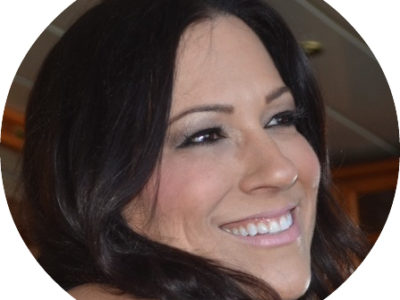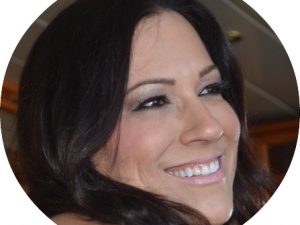 Alyssa L. – Executive, Mom of 2
When I first decided to sign up for the Hot & Healthy Detox Program I was a bit nervous. The thought of a detox and all the preparation that goes along with it sounded overwhelming. However, the second I received the links to the program from creator Laura London, all my worries melted away. And so did 8 lbs!
This program is genius! Laura provides everything (and I mean everything) you need to be successful and come out radiant on the other side. The program was easier than I thought it would be, and I must say the results are super. Here are just some of them:
8 pounds gone! My energy soared, I mean like jump out of bed ready to tackle the day kind of energy! I was able to focus better at work…my mind was clear and my creativity was off the charts! I felt calmer and happier…did not feel agitated when challenges came up during the day! My skin was clear and glowing, I mean literally glowing! It was like someone had airbrushed my face!! And everyone kept asking me what I was doing to look so refreshed!
But the best part is that Laura is with you every step of the way!! The videos are incredible and the menu planning is literally the easiest my food preparation has ever been. Especially the part where I made an extra portion of dinner at night and that became my lunch for the next day! What could be easier!! Trust me, I am a super busy, full time executive, and mom of two. If I can do this, anyone can!
Laura walks you through each and every day from start to finish, including the preparation of every recipe. She includes a detailed shopping list which makes grocery shopping a breeze. No thinking, no stress, just follow her lead and feel amazing!
The detailed plan that Laura provides takes you through your 3 meals and 2 snacks daily. Each one is well thought out and includes all whole foods that can be purchased in any grocery store. The schedule really kept me on track and made it easy to check during the day to be sure I was getting all my meals and snacks in. With 3 meals and 2 snacks you will always feel satisfied, there is more than enough great quality food that hunger is never an issue.
If you want to feel the best you have felt in a long time, drop a few pounds and learn awesome new recipes that will be favorites for life (I love the zucchini noodle salad), sign up for this program. You will be so happy you did.
*Results may vary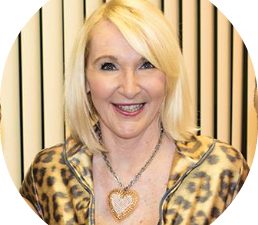 Laura, I just wanted to say thank you for the Hot and Healthy detox and all the great information you gave me. Doing a detox is just what I needed. I did not want to go on a liquid fast or starve myself. This was just perfect. I loved that I could detox while eating natural whole foods, improve my digestion, sleep better and lose 5 lbs. I feel amazing and I am so happy that I did the detox. This was just what I was looking for!
*Results may vary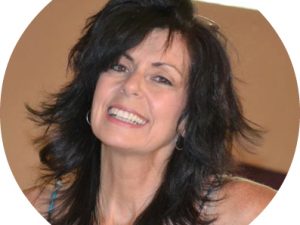 Sally Spear – Wife, Mother & Entrepreneur
I finished the Hot and Healthy Detox a few weeks ago and everyone is still asking me what I did. Laura you hit a home run with this program. The videos make it simple to follow and I loved learning new recipes that I can incorporate into my every day life. I am drinking my lemon water every morning!
I have less bloat, my skin is glowing and on top of it I have dropped weight. Thank you so much for creating such a do-able program and I can't wait to detox again! This time, with my husband.
*Results may vary
You get lifetime access to the recipe videos, PDF's and Awesome Bonuses:
Recipe VIDEOS, with over 30 instructional cooking videos that will improve digestion, decrease inflammation and keep you feeling satisfied.
Downloadable PDF Recipes, with beautiful color photos.
Cooking Tips and Tricks that will make you a super star in the kitchen.
Shopping List, that you can download to your phone, take to the store and make shopping quick and easy.
Amazing Handouts, full of valuable health and wellness information.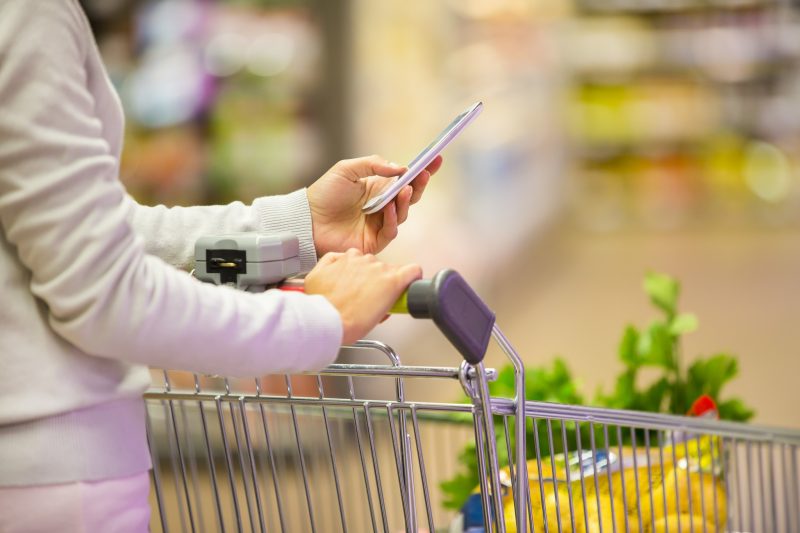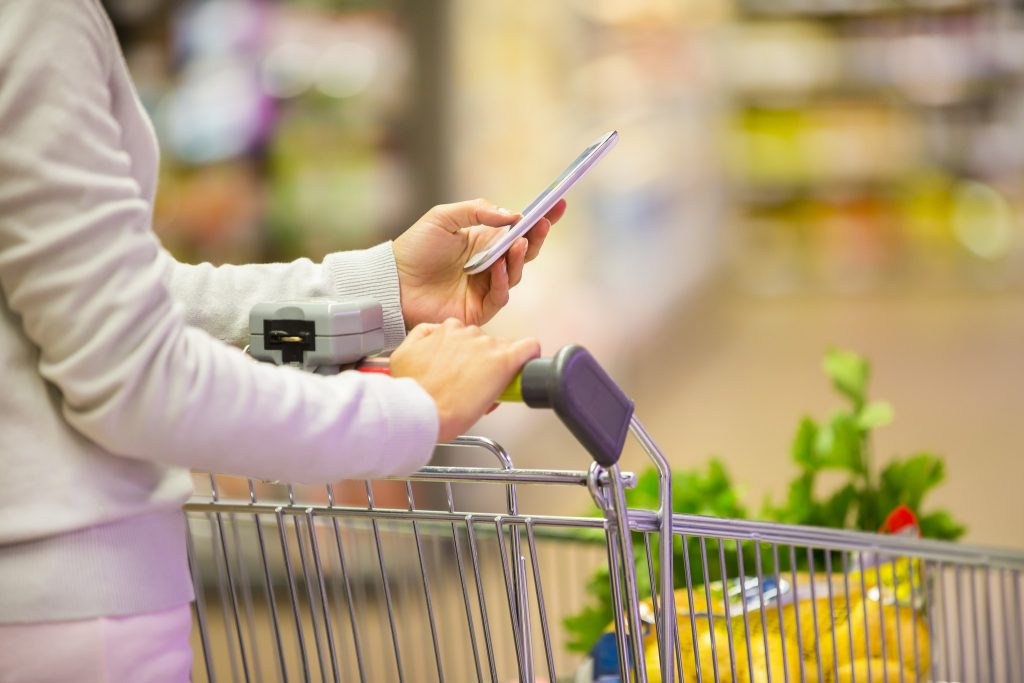 Plus, You Get These AMAZING Bonuses:
Fitness Videos, quick and efficient workouts you can do at home or in the gym.
Bonus Recipes and Healthy Eating Handouts, my healthy "cheat sheets".
Detoxing 101 Video, the low-down on what detoxing is and why it is so important to your health.
Primary Foods Video, and why bringing balance back into your life is important to being Hot and Healthy.
Guilt Free Treats, my special healthy dessert recipes.
10 Secret Weight Loss Gems Audio, download and listen to on your favorite music device.
AMAZING Bonuses: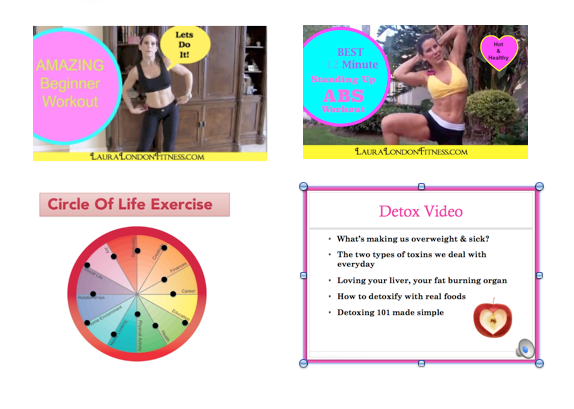 Some Of The Important Things You Will Learn In The 7-Day Hot and Healthy Detox
What is making us overweight & sick.
Why loving your liver your bodies "fat burning" organ is the key to weight loss.
How to detoxify with real foods.
Why whole foods are the foundation of healthy eating.
How to cook with fun, healthy ingredients.
How to prepare snacks to get you past the afternoon crash with energy and no caffeine or crazy amounts of sugar.
Why what we put on our skin is just as important as what we eat.
100% 30-Day Risk-Free Guarantee
What Does The 7-Day Hot and Healthy Detox Cost?
It took me a long time, research, classes and trial and error before I found out how to take care of my body and bring it back to health. I suffered from mononucleosis (twice), chronic fatigue, Epstein Barr and have a chronic back issue. I truly understand the importance of living a healthy lifestyle and I want to share what I have learned with you in the 7-Day Hot and Healthy Detox.
To get all the information I am including in this program would cost thousands of dollars. I really wanted to make the program affordable and get this important information out to you. I know without a shadow of a doubt you are going to love what I have created for you.
You get everything we spoke about the recipe videos, the downloadable PDF's, the hot and healthy handouts, the amazing bonuses and my knowledge. YES, that is right! The reason I can bring this program to you at such an amazing price is that I am able to use the latest digital technology to deliver it right to you. This way you can watch the videos and create the recipes over and over again.
If you are ready to have: endless energy that lasts all day long, glowing radiant skin, and feel hot and healthy from the inside out.
Frequently Asked Questions
Will I be hungry on the Hot and Healthy Detox? Oh, no quite the opposite you will be eating real, whole foods all day long. Your body is going to be so happy with you. Not only will you be nourishing your body but also you will be nourishing your soul.
Am I Only Drinking Green Smoothies? No not at all. You will create some brand new smoothie recipes. Plus as a bonus I am giving you my Goddess Green Smoothie e-Book with over 70 delicious recipes. But it does not stop at smoothies. You will be eating salads; soups, grains and I even left some room for dessert. Detoxing and getting healthy never tasted so good!
Will I Have Energy During the Detox? Yes, yes and yes. Although we are detoxing and giving the body a break from inflammation causing foods you are supplying your body with nutrition at the cellular level.
Is It Ok to Exercise During the Hot and Healthy Detox? The answer is yes; I would always consult your Dr. if you have any questions or concerns. What I suggest is to do something gentle like yoga or walking during these 7 Days. We want the body to be stress free and relax. Go hug a tree!
Do I need to take any supplements or vitamins during the Detox? My suggestion is to eat whole foods during the 7-Day Hot and Healthy Detox. But please feel free to do what feels right for you. Again, if you have any concerns please consult your Doctor for advice.
** Note to You: It is important to consult your physician before beginning any new eating program. The Hot and Healthy Detox program is designed to teach you the difference between foods that inflame you and foods that fuel you. These statements have not been evaluated by the Food and Drug Administration. This is not intended to diagnose, treat, cure, or prevent any disease. Please refer the terms and conditions stated www.LauraLondonFitness.com for a full disclaimer. *Results may vary.