Laura Waldorff Reiss & Julie Lohr Prout
Kindness Matters 365 is a 501(c)(3) non-profit foundation that delivers innovative programs to support the well-being of kids and teens. Grounded in the principles of Social Emotional Learning (SEL) and providing skill-building through experiential learning activities, KM365's unique approach teaches kids to discover how to care for themselves, each other, and our world through exploring self-awareness, self-navigation, empathy, a growth mindset, and a dedication to service-learning.

Today I had the honor of interviewing Laura Waldorf Reiss & Julie Lohr Prout from Kindness Matters 365. Laura is the founder of Kindness Matters and Julie an amazing volunteer who is in charge of spearheading the Community Wellness Fest with Laura on February 26th, 2023 in Delray Beach Florida at Old School Square.

Listen as we talk about all the work that this foundation is doing in our community and beyond for our kids, teens and adults.

It truly shows you that with gratitude, compassion and kindness we can change the world. I know you are going to love this interview.
WATCH THE YOUTUBE INTERVIEW HERE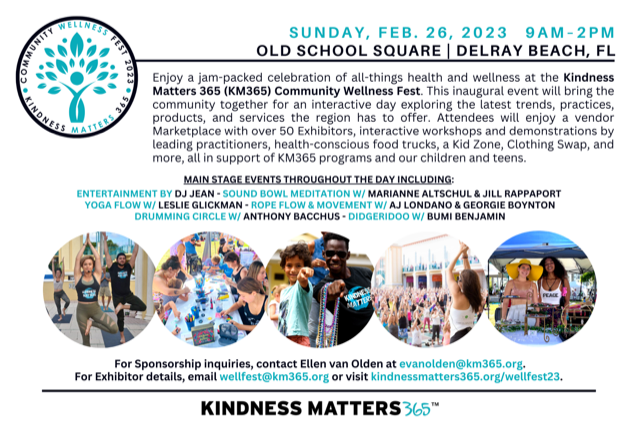 COMMUNITY WELLNESS FEST
February 26, 2023
Old School Square
Delray Beach, Florida
2/26/23
Sunday | 9am – 2 PM

FIND KINDNESS MATTERS 365 ON SOCIAL MEDIA
Web Site: KindnessMatters365.org
Facebook: KindnessMatters365
Instagram: KindnessMatters365
YouTube: KindnessMatters365