You have probably seen them in the gym or all over the Internet. But what heck is a foam roller and why should you be using it?
Great question. I love when you guys ask such great questions. Today this article is all about the FOAM ROLLER and why you should be incorporating foam rolling into your Hot and Healthy tool box.
You can use the foam roller before, during and after your workouts or just because you feel like you need to use it anytime, that is the beauty of the foam roller.
Foam rollers come in different sizes, I personally use the 13' inch foam roller because it is compact and travel-friendly. There is also a 26″ size which you will see a lot of times at fitness facilities. Foam rolling is a great addition to your fat loss tool box to keep your body HOT AND HEALTHY as well as getting regular massages.
When you first use a foam roller, it may be uncomfortable, but the foam roller will actually help your muscles relax. Healthy muscle should not be painful, so if certain spots hurt, that means there is tightness that you need to get rid of. Roll slow and gently and listen to your body.
DON'T WRITE OFF FOAM ROLLING AS A WASTE OF TIME
I know we are all short on time, but this one little trick will keep your body in top form so you are able to recover quickly from your workouts and get the most exercise bang for your exercise time!
Spending an extra 10 minutes a day STRETCHING and foam rolling can drastically improve the effectiveness of your workouts and the quality of your muscle.
WHAT THE HECK IS FASCIA?
Myofascia (or fascia) is a thin, dense and highly flexible tissue that surrounds and covers all of your muscles. Without fascia you would not have anything to hold your muscles and organs in place. It's the life force next to blood. It is similar to a fine fishnet covering your muscles and it is sensitive to every hormone in your system.
FASCIA AND EXERCISE
When you are exercising fascia is what is shortens and lengthens as you move. It can become tight due to repetition and overuse. You know that feeling when you have a "Knot", such as in your shoulders.
Exercise and lack of flexibility training aren't the only things that causes fascia to become damaged and tight. Poor posture, prolonged sitting or standing, accidents that cause muscle trauma like a fall or car accident, and chronic stress can all contribute to uncomfortable, tight and knotted fascia.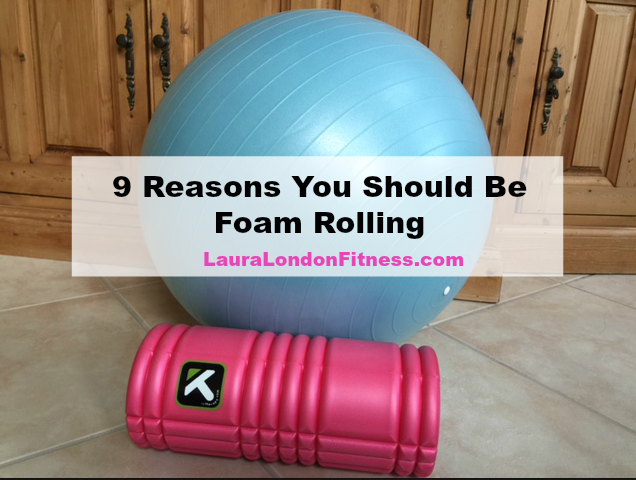 9 REASONS YOU SHOULD BE FOAM ROLLING
REDUCES TENSION & STRESS
If you don't have the time to get massage foam rolling is a great alternative. You can do it in the privacy of your home and best of all it's free! Why not put on some relaxing music, light a toxic free candle and FOAM ROLL your stress away.
STIMULATES YOUR BODIES NATURAL DETOX SYSTEM
Foam rolling is a great way to stimulate your bodies natural built in detoxification system called the LYMPH SYSTEM. Foam rolling will stimulate the lymph to improve blood flow, which will help the body to exchange nutrients and waste in the cells. It will bring more oxygenated blood to the areas you are rolling. More oxygen equals fat burning.
LESSONS CHANCE OF INJURY
When you foam roll before you exercise you are warming up your muscles and reducing the chance of injury. It will keep you from over-exerting unprepared muscles and joints. Using the foam roller after your workout will help to keep your fascia and muscles from becoming tight and sticking together. Foam rolling is a great way to cool down after your workout, add in some stretching and your body is going to love you.
REMOVAL OF LACTIC ACID
When you exercise lactic acid can build up in the body, especially after strenuous exercise.   Lactic acid can be associated with muscle cramps, soreness and fatigue. Foam rolling is a great way to assist the body in removing the lactic acid from the body.
RELEASE TENSION FROM THOSE OVER-ACTIVE OR 'TIGHT' AREAS BEFORE A WORK OUT
Foam rolling before your workout is a good way to help reduce or prevent injuries in tight muscles by releasing tension. Warmed up muscles can help the body to have a greater range of flexibility, coordination and help to improve your balance.
IT CAN DOUBLE AS A WORKOUT TOOL
Who knew! You can use it in a lot of different ways for exercise. One of my favorites is to use it for booty exercises. You know there will be a video for this one!
INCREASED RANG OF MOTION & FLEXIBILITY
Foam rolling releases tension in the muscles, and can help to break down build up of scar tissue. Rolling will help to lengthen tight muscles, such as the hip flexors and IT band (iliotibal band). It is also great for reducing back pain.
HELPS TO REDUCE CELLULITE BY IMPROVING BLOOD CIRCULATION
Foam rolling is not going to banish your cellulite, but it is another great tool to have in your FAT LOSS Tool Box. Rolling on areas that have cellulite will help to stimulate the bodies natural detox system, the lymph system and to bring more blood flow and oxygen to these areas.
HELPS TO MAINTAIN A HEALTHY SPINE
Foam rolling can be a great way to improve your spinal health. It can relieve tension in your back from sitting for long periods of time. It can also help to strengthen the muscles in the back if done regularly along with exercise. Personally I just know it feels good!