How to Choose A Stability Ball
What ever you call it a Swiss ball, stability ball, physio ball or exercise ball it is a great piece of equipment to have for your workout routines. I love them because they come in pink! If you workout with me one on one all my fitness tools are in pink.
The stability ball is great because you can do some many different exercises with it, it challenges your muscles differently than using weights and makes simple exercises more challenging and effective.
The stability ball is an unstable surface, so using it will help to activate small muscles that you would not normally be using if you were weight training. This is why I believe it is so important to switch up your exercise routine and experiment with different equipment. The body will adjust and get used to doing the same exercises over and over again.
More Stability Ball Workouts You Will Love
Rock Your Core Stability Ball Abs
The Power of 100 Lower Body & Stability Ball Core Workout
How To Choose the Right Size Fitness Ball
The best way choose is to actually sit on the ball if you can and see if you are able to sit with your feet on the floor and your thighs parallel to the ground.  This is the best position for you to measure with.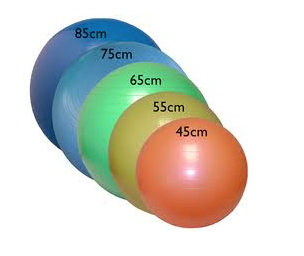 Here are some measurements to go by: 
4'11" to 5'4″ height: 55 cm ball
5'4″ to 5'11" height: 65 cm ball
5'11" to 6′ 7″ height: 75 cm ball
The stability ball makes a great alternative to a weight bench and takes up a small space. My kids love to play with it too and sometimes I have to fish it out of the pool!  You can use the ball to do chest presses and flyes as well as wall squats, plank, hamstring curls and great AB exercises.  Some days at the gym I will only workout with the stability ball.
Stability balls also come with sand in them to make exercises even more challenging.  They come in different shapes also.  We have one that we call "The Vitamin Pill".  It is oblong and army green.  The oblong shape is really great for people who have trouble using the round stability ball.  This ball has a wider base and is more stable and won't roll around as easily but it will still challenge your muscles.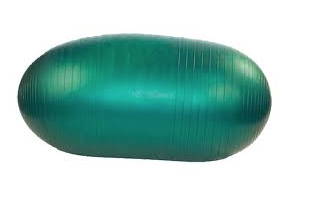 If you have never worked with the stability ball before I encourage you to give it a try.  I know you will love its versatility and functionality.  Have fun and let me know how you do!