Give me the sugar and no one gets hurt.
Have you been looking for the key to healthy weight loss? Have you tried millions of different diets, workouts and nothing seems to stick.  Maybe you have been successful at your "diet" lost 20 pounds or more, felt great and then some how you woke up one morning and it was back! What the heck is going on here?
I have found the lost keys and I am so happy to share them with you. They have been out there for a long time but they seem to have gotten lost. Are you ready to hear what the missing keys are? Today, I am sharing the first key, blood sugar stabilization.
By now you realize that diets don't work. They are a temporary fix and a diet always means it is going to end. When something ends, you will go back to what you were doing before and then been in the crazy cycle of yo-yo dieting.  How many times have you dieted for an event? A wedding, a vacation, a man? And then BAM! you stopped, and so did your weight loss.
I do not believe in removing any food group from existence like so many diets out there. Mother Nature created all protein, fats, carbohydrates for a reason. Let's learn to be friends with them, invite them in and learn how to balance them in our life, because balance, is the other missing key to weight loss.
Understanding Blood Sugar Ups, Downs, and Weight Loss
The Glycemic Index is a measure of the rate at which ingested food causes the level of glucose (blood sugar) in the blood to rise after a food is eaten.
Here is a photo of the glycemic index (GI) and the affect sugar levels have on the body.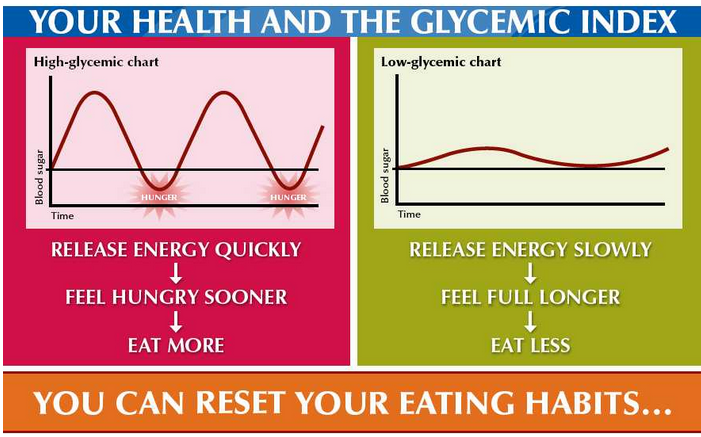 The foods you eat directly relate to the blood sugar levels in your body.  If you eat a diet that keeps your blood sugar stable all day long your cravings will be a thing of the past, fat will melt from the body and your hormones will regain their balance.
So lets work on understanding the glycemic index and why it is the key to successful weight loss and living a healthy balanced life.
The bodies main fuel source and the brains only fuel source is glucose and/or blood sugar. Your body breaks down almost everything you eat and drink into glucose.  Some foods break down much quicker than others and will spike in your glucose level.  This is what we want to avoid.
The body is always fighting to stay in balance and it will only allow a certain amount of blood sugar to stay in the blood. If there is extra sugar it wants to remove it right away and protect the blood. This is when your pancreas steps in and sends out the hormone insulin to the rescue. Insulin will take that extra sugar, grab it and store it in your fat cells to use at a later time.
So if you are eating a lot of foods that are high glycemic, spiking your blood sugar you are going to get fat. It is that simple.
When you learn to balance your blood sugar other great things will start to happen.
Your cravings will diminish.
Your body will become more efficient at fat burning.
Inflammation will decrease.
Your sleep will improve.
You will feel more in control and healthy.
Improve your skin.
Increase energy.
Reduce your risk of developing type 2 diabetes.
Reduce your LDL (bad) cholesterol.
Increase your HDL (good) cholesterol.
Think of your blood sugar as a roller coaster. You want your blood sugar to stay and a nice even roll all day long. Picture a tube and your blood sugar can roll through it easily never breaking through the top or crashing through the bottom of the tube.
When you have been on this blood sugar roller coaster for years your body starts to freak out and gets very confused.  It becomes less efficient and starts to protect your vital organs at all costs.  It will start to store the fat around your mid section to insulate your precious internal organs. Ever hear of the "middle age spread" or "muffin top"? How about spare tire? This is called Glycemic stress.
85% to 95% of the carbohydrates adults and children are eating today are considered to be high-glycemic.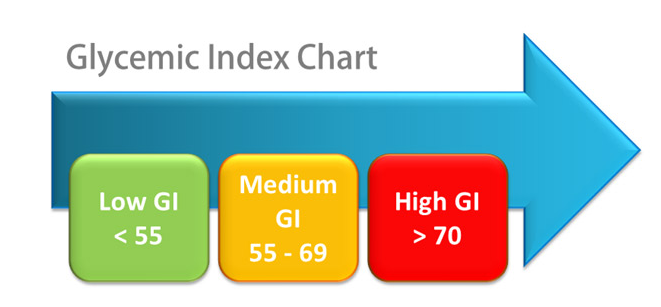 Lets take a look at the Glycemic index of some foods so you get a better understanding of how to spot them.
| | | |
| --- | --- | --- |
| White Rice | High GI | 89 |
| White Potato | High GI | 82 |
| Bagel | High GI | 72 |
| Table Sugar | Medium GI | 61 |
| Old Fashioned Oat Meal | Medium GI | 56 |
| Banana | Low GI | 54 |
| Orange | Low GI | 40 |
| Chick Peas | Low GI | 36 |
| Broccoli | Low GI | 15 |
The point I want to get across is that eating a diet with an abundance of low glycemic foods and eating consistently throughout the day will keep your blood sugar stable. Which in turn reduces cravings and lets you loose weight without counting calories. How great it that!