I had the pleasure of contributing to Healthy Juicing Magazine.
Healthy Juicing Magazine is a monthly digital magazine which is only available on the iPad. We cover all aspects of juicing including – recipes, product reviews, book reviews, information on the latest trends, interviews with the experts in the juicing field. All this to help you improve your health and fitness.
The August Issue –  August burst with garden fresh vegetables and deliciously ripe fruites.  In this issue you'll find out the difference between juice fasts and feasts, summer sorbet recipes, a complexion elixir recipe, and foods that feed the skin, hair and nails.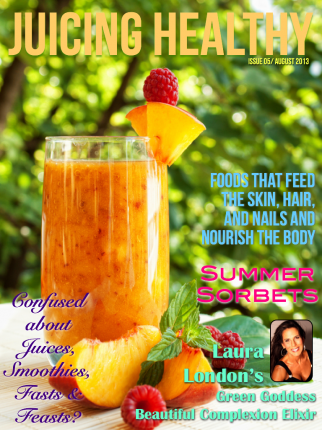 Juicing Healthy Magazine brings you tasty seasonal recipes, product reviews, and interviews with health experts right to your iPhone or iPad.
Each juicy issue brings you the latest news about juicing, blending and the incredible health benefits that can be achieved with this healthy lifestyle with a focus on your local small farm.