How to Make A Healthy RAW Breakfast Cereal
This is hands down my all-time favorite easy to make breakfast cereal. That's right you heard me correctly a RAW cereal. It's super easy to make and loaded with vitamins and minerals plus it is gluten-free.
Most cereal is loaded with processed sugars and artificial chemicals and flavors.  This cereal is great any time of the day, in fact, I love making it as an afternoon snack.
Apples are extremely rich in important antioxidants, flavanoids, and dietary fiber. The phytonutrients and antioxidants in the fruit may help reduce the risk of developing cancer, hypertension, diabetes, and heart disease. (Medical News Today).
One of my favorite kitchen tools for making a salad look beautiful or this apple cereal is this amazing tool I am using in the video.
The fast and convenient way to slice or shred vegetables, fruits, and cheese for delicious salads, soups, pizzas, tacos, desserts and more.

Grate chocolate, chop nuts and make bread and cracker crumbs quickly and easily. Shoot ingredients right where you want, with no extra bowls to clean!
7 Benefits of Apples
Help keep you full and are a great weight loss food. The fiber in apples will help to keep you fuller longer without adding a lot of extra calories and they are fat-free. The average apple has about 95 calories and about 20 grams of good carbohydrates. In addition, you are getting valuable vitamins and minerals such as potassium. The fiber in the fruit also helps to clean out your system like a little broom.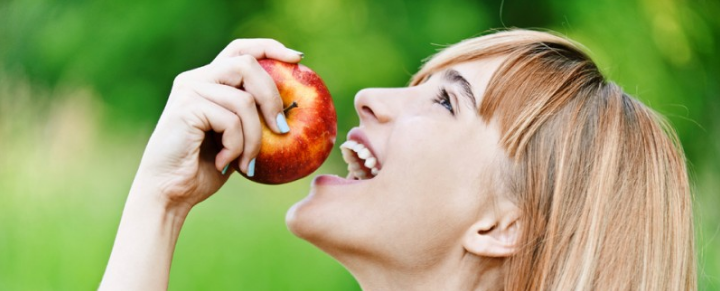 Help boost your immune system. They are a good source of immune system-boosting vitamin C. Next time you have a cold eat an apple and an orange!
Good for your brain. This fruit contains quercetin, a powerful antioxidant may help brain cells from degenerating.
May help you breathe better. Phytochemicals in apples, such as flavonoids and phenolic acids, can help to calm inflammation in the airways.
Aid digestion. They contain insoluble fiber, which provides bulk in the intestinal tract. The bulk holds water that cleanses and moves food quickly through the digestive system.
May help to fight cancer. In 2004, French research found that a chemical in the fruit helped prevent colon cancer, WebMD reported.
Next time you are running out the door grab an apple instead of a bag of chips.
Here is a super easy snack with a twist on the old-fashioned slices with peanut butter.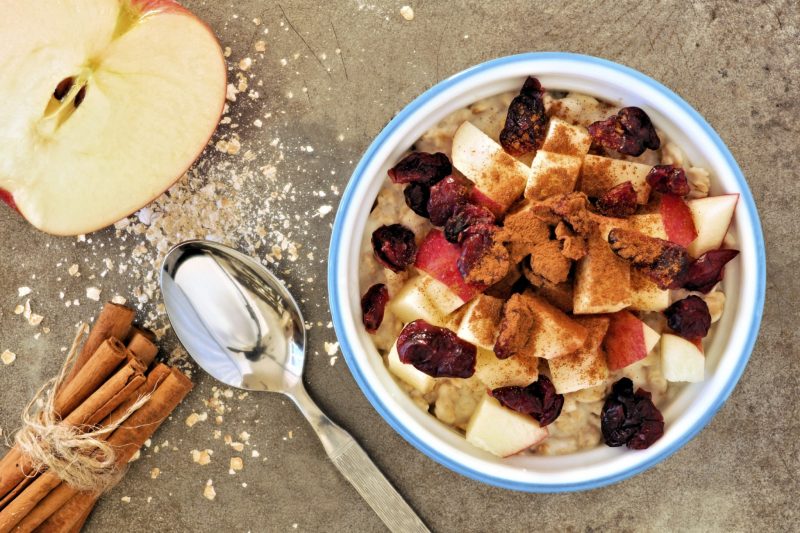 Print
Healthy RAW Breakfast Cereal
This is hands down my all time favorite easy to make  breakfast cereal.
Ingredients
1 Apple
1 Banana
Almond Milk or milk of choice
Cinnamon
Nuts of choice
Raisins
Optional Add-ins
Bee pollen
Ground Flax
Raw Wheat Germ
Instructions
Shred the apple (I love the Salad shooter for easy shredding)
Slice some banana on top
Sprinkle a few raisins, cinnamon, and add ins on top
Pour almond milk over and enjoy.  Full of raw enzymes and bursting with vitamins and minerals