Simple Zucchini Noodles That Taste Better Than Pasta
Zucchini noodles are going to become a staple in your home.  They are simple to make and they are a healthy substitute for pasta. Plus, they are gluten-free.
Today in the kitchen I have my best fried Sally joining me for our new series "Two Dames in The Kitchen." Sally is an amazing cook and what's better than cooking with your BFF?  If you have not seen our first episode where we made sweet potato spaghetti using this spiralizer, make sure to watch the video for another simple hot and healthy dinner.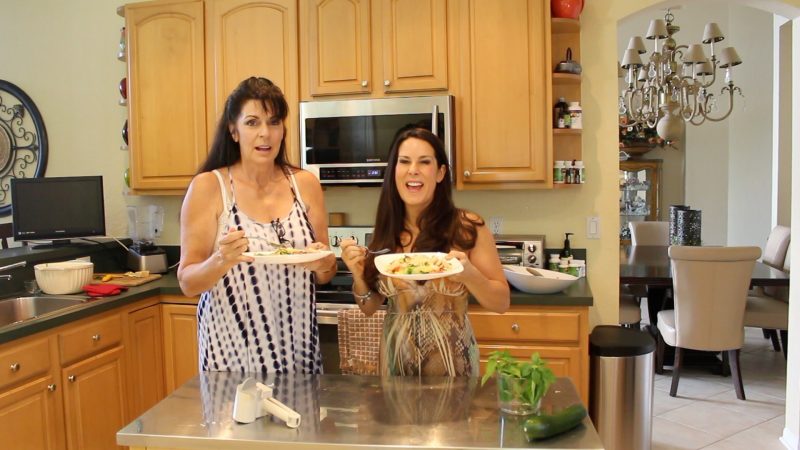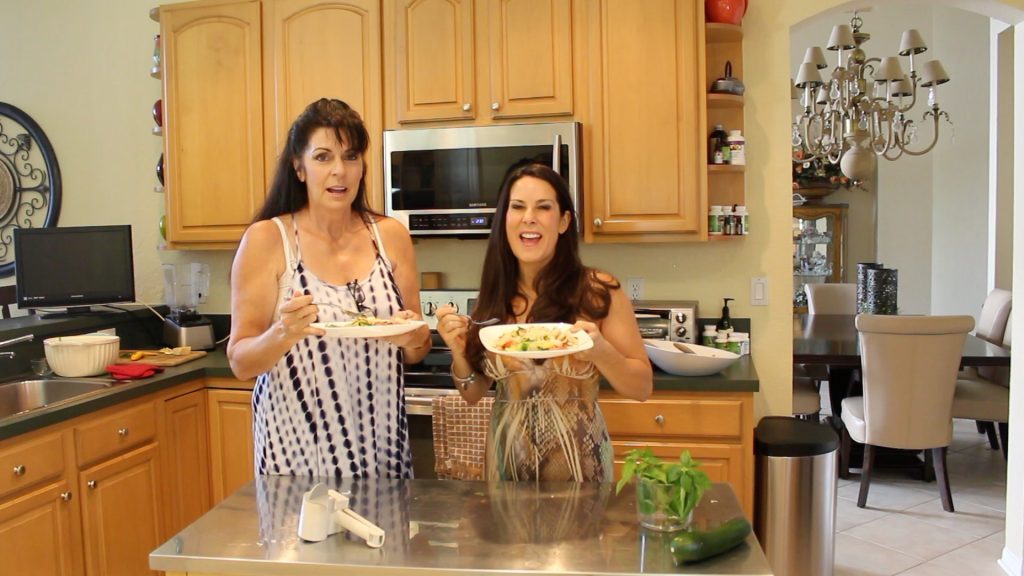 Step By Step Recipe Directions – Follow Along With Us In The Kitchen
Today we are using a simple kitchen tool that everyone has to make the zucchini noodles.  You are not going to believe how simple this is to make. Zucchini is a very versatile vegetable because there are so many ways you can prepare it.  You can add it to baked goods like zucchini bread or grill it on the BBQ.  My family loves it any way I make it. Look for organic or local farm grown produce whenever you can.
Health Benefits of Zucchini
High source of Vitamin C
High in potassuim, which can help your heart
Helps with digestion
High water content vegetable
Low in calories
Has anti-inflammatory properties
Fresh Basil From The Garden
Today we are using fresh basil from my garden.  A patio garden is simple to create. All you need is a container, soil, basil and water. How easy is that!  There is nothing like the fresh smell of basil from the garden.  In the video you will see how my basil is growing like a bush. If you don't have an outdoor space, you can grow basil inside just as easily. Try some parsley and rosemary too.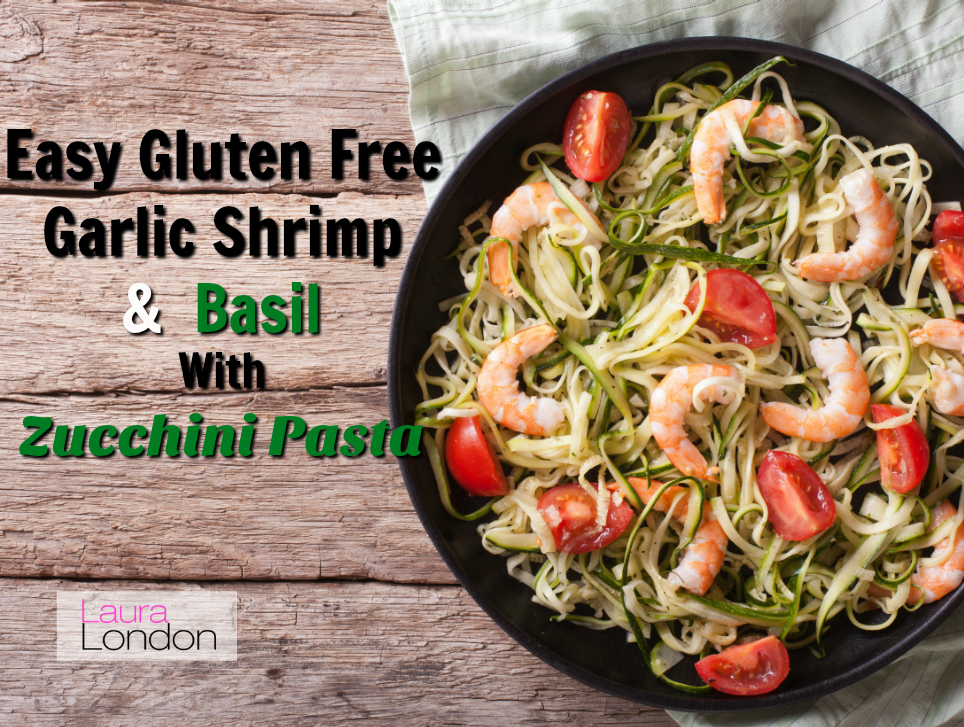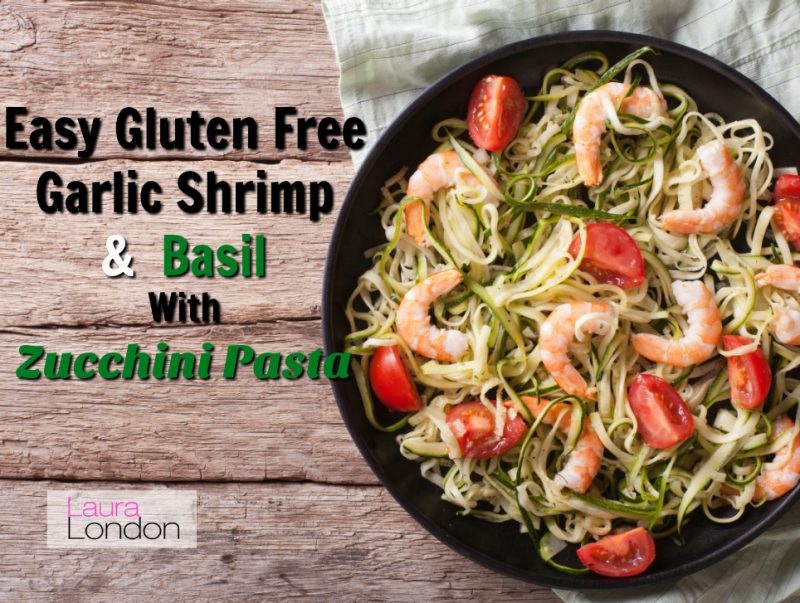 Print
Gluten Free Garlic Basil Shrimp with Zucchini Noodles
This recipe is great for all diets. For those who are not a fan of seafood, add chicken as your source of protein. For vegetarian and vegan diets, add additional vegetables and/or tofu as your protein. This dish is delicious, family-friendly, and the perfect dinner to accommodate family and guests' dietary needs.
Ingredients
2 lb wild caught shrimp, peeled and deveined
1/4 c olive oil
1 c cherry tomatoes
3 cloves, fresh garlic, chopped
2 zucchini
1 large handful of fresh basil
1 handful of fresh parsley (optional)
1/2 fresh squeezed lemon
2 tbsp. fresh grated parmesan cheese
Instructions
Fill pot of water, cover and set on stove to boil
Drain defrosted shrimp of any water in a colander
Add 1/4 cup olive oil to heated pan on medium
Add the fresh garlic and cook until fragrant
Peel zucchini noodles into a bowl
Add shrimp to pan on stove, cook for 1 minute and add cherry tomatoes, basil and parsley
Stir shrimp, add 1/2 fresh squeezed lemon juice
Add zucchini to boiling water and cook for 6-8 minutes until tender
Drain zucchini, and add into a large serving bowl
Top with some fresh grated parmesan cheese
Serve and enjoy!