Dr. Carolyn Dean Interview on Magnesium
Dr. Carolyn Dean, MD, N.D. know as "The Doctor of the Future". Was Thomas Edison Talking About Dr. Dean?
Vibrant Living Radio Glenn Brooks, Michael Russ & Laura London
Thomas Edison (1847-1931) inventor of the motion picture camera, the phonograph and the first practical, long-lasting light bulb. He is credited as the "man who made the future."   Thomas Edison said: "The doctor of the future will give no medicine, but will interest her or his patients in the care of the human frame, in a proper diet, and in the cause and prevention of disease."
Today's media repeats Edison's words calling Dr. Carolyn Dean The Doctor of the Future
Credentials Dr. Dean's not only a medical doctor but also a naturopath, herbalist, acupuncturist, nutritionist, lecturer, consultant, author. Dr. Dean has been at the forefront of health issues for over 30 years.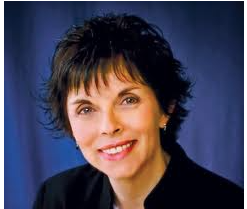 Education – Dr. Dean graduated from Dalhousie Medical School in 1978, holds a medical license in California and is a graduate of  The Ontario College of Naturopathic Medicine – now the Canadian College of Naturopathic Medicine (CCNM) in Toronto. She served on the board of Governors of the CCNM for six years.
Dr. Dean Has Authored or Coauthored Over 30 Books
How To Change Your Life With Magnesium
Future Health Now Encyclopaedia
Death by Modern Medicine: Seeking Safe Solutions
The Magnesium Miracle
The Yeast Connection and Women's Health
IBS for DUMMIES
IBS Cookbook for DUMMIES and Hormone Balance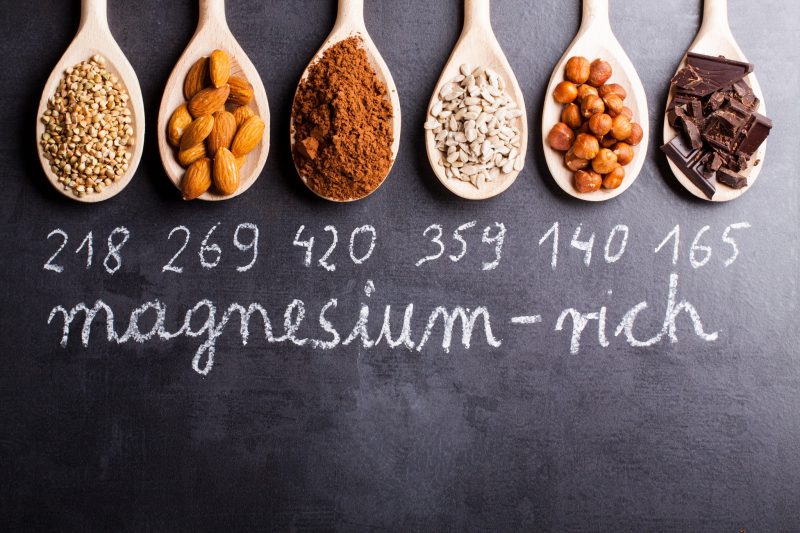 How Much Magnesium Do We Need?
The body loses stores of magnesium every day from normal functions, such as muscle movement, heartbeat and hormone production. We only need small amounts of magnesium relative to other nutrients. We must regularly replenish our stores either from foods or magnesium supplements in order to prevent deficiency symptoms.
Recommended Daily Allowance of Magnesium
These are the current RDAs for magnesium depending on your age and gender — intakes vary on different individual factors — according to the NIH:
Infants–6 months: 30 milligrams
7–12 months: 75 milligrams
1–3 years: 80 milligrams
4–8 years: 130 milligrams
9–13 years: 240 milligrams
14–18 years: 410 milligrams for men; 360 milligrams for women
19–30 years: 400 milligrams for men; 310 milligrams for women
Adults 31 years and older: 420 milligrams for men; 320 milligrams for women
Pregnant women: 350–360 milligrams
Women who are breastfeeding: 310–320 milligrams
** It is important to be careful when using any supplement.  Including magnesium supplements. Consuming any supplement in doses that are too high can create an imbalance in other nutrients and toxicity. I usually recommend getting magnesium or other nutrients from food sources, as foods naturally contain other important balancing nutrients.
Top 12 Foods High in Magnesium
(percentages based on the RDA for adult women of 320 milligrams/day):
Spinach: 1 cup cooked: 157 milligrams (49 percent)
Swiss Chard: 1 cup cooked: 150 milligrams (47 percent)
Black Beans: 1 cup cooked: 120 milligrams (37 percent)
Mung Beans: 1 cup cooked: 97 milligrams (30 percent)
Almonds: ¼ cup: 97 milligrams (30 percent)
Cashews: ¼ cup: 91 milligrams (28 percent)
Potatoes: 1 large: 85 milligrams (26 percent)
Pumpkin Seeds: 1/4 cup: 42 milligrams (13 percent)
Avocado: 1 raw: 39 milligrams (12 percent)
Bananas: 1 banana: 37 milligrams (11 percent)
Broccoli: 1 cup cooked: 32 milligrams (10 percent)
Brussels Sprouts: 1 cup cooked: 32 milligrams (10 percent)
The Magnesium Miracle Book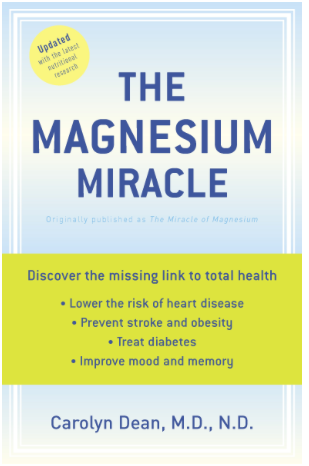 Media Appearances Radio, TV and magazines interview her regularly — including ABC, NBC and CBS. Click here for a complete listing of journals, interviews and articles featuring or written by Dr. Dean.
Appointments – Dr. Dean is Medical Director the Nutritional Magnesium Association. She is President of Hallmark-Dean Academy, U.S., and Hallmark-Dean Laboratory working closely with Danna Hallmark, inventor of a unique functional, computerized, urinalysis lab test. Dr. Dean and Ms. Hallmark teach Laboratory Technician, Wellness Counselor, and Certified Naturopath courses in their licensed school, building a network of practitioners in their National Wellness Project.
Consulting Practice – Dr. Dean has a Telephone Wellness Consulting practice. Assisting individuals with all types of illness at any stage or degree of severity.
Current Status – Dr. Carolyn Dean lives in Maui with her husband where she visits the beach most days, swims, snorkels and thoroughly enjoys her work and play – most days not knowing which is work and which is play!