Happy Holidays!
I can't believe it's "that time of year" again. The days pass by so fast. This year I would love you to reflect on the year that has passed.  Look back and see how quickly time flies by.  Notice all the amazing things that have happened in your life and be grateful for them.
They do not have to be huge things, it is the small little everyday things that we take for granted every day that truly make our lives a precious gift.  Going to the movies with a loved one, your child getting a good grade in school or, a conversation with an old friend.  These simple moments are what make life so special. Make a list of these special times and be grateful for them.
Family Favorite Thing To Do For Thanksgiving Or Any Holiday
Create a  "5 Things I Am Grateful For" for everyone at your holiday table.  Have each one of them fill it out and read them out loud. Trust me it is a really fun thing to do and it's calorie free! Cut out strips of paper and ask them to write down at least one thing they are grateful for.
My guests love this.  We keep the strips of paper and re-read them every year.  The family and friends love it and it helps to bring everyone closer together and enjoy what this day is truly about.  Celebrating with family and friends.
1.
2.
3.
4.
5.
Health And Fitness and Staying On Track During The Holidays
Don't worry I have got you covered with:
5 Tips to Avoid Holiday Weight Gain
Make this day about family, friends and being present in the moment, not about food
 Eat a healthy breakfast and lunch so you are not so tempted to overeat at the dinner table.
Drink plenty of water throughout the day and before dinner.  Water will keep you full and hydrated. Plus it's just good for you!
Enjoy your food and decide to take smaller portions of everything.  Think sample platter.
Think about how you and your body will feel the next day when you wake up and not feeling like you have a food hangover. This means PLAN OUT what you are going to eat and what you are not going to eat.  Just because it is a holiday does not mean it's time to overdo it. It means enjoy and still stay on track and you will be so happy that you did.
Need A Holiday Go To Appetizer? Easy Vegan Mezze Board
This vegan Mezze board is going to be a hit at your next party. People who are not vegans will love it too! This will be your new go-to dish when invited to a party and you don't know what to bring. The combinations are endless.  Get the FULL RECIPE CLICK HERE
The mezze platter (sometimes spelled meze) is a way to start a meal in many countries such as Turkey, Isreal, Greece, and Lebanon.
This is a platter I put together for a party where the hostess asked us to bring vegan and vegetarian meal options. I came up with this beauty.  I was not sure what to use at first to put everything on. Then I found this fabulous pan online. It is an extra large cookie sheet. Have you ever seen one of these before? It was a perfect size.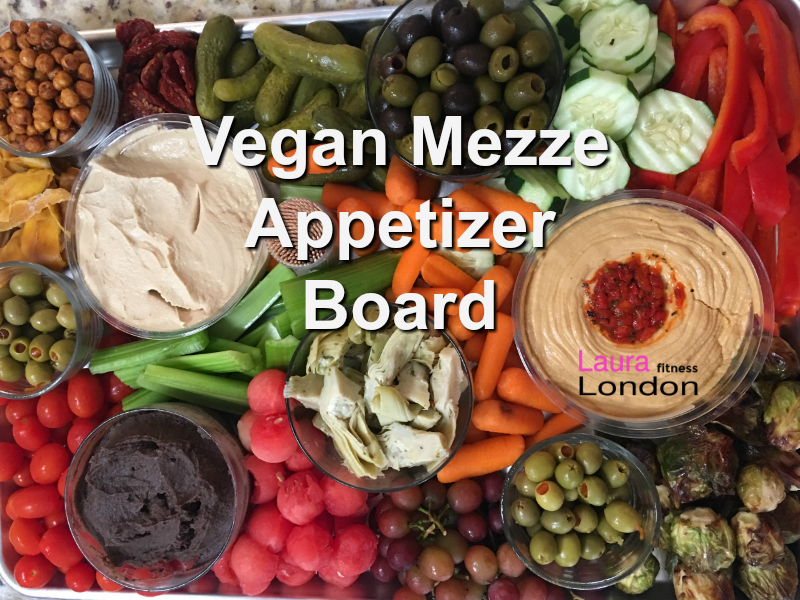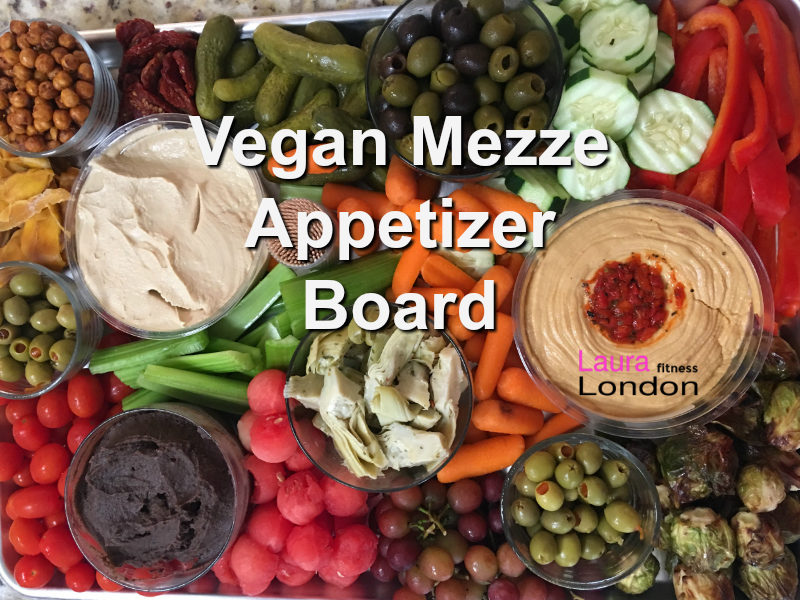 Shop My Amazon Health, Fitness & Yoga Store
You all keep asking me what are my favorite health and fitness.  Amazon and I have created a Laura London Fitness Store. Here you will find lists that contain my personal favorite fitness, health, beauty and kitchen items that I use and love.  Take a look. P.S. I love Amazon! They make shopping online so easy. Laura London Fitness Amazon Store
Have a Hot and Healthy Holiday Season.