Why You Should Switch To an Organic Mattress
Organic Mattress – My husband and I have been sleeping on the same mattress for close to 18 years. I know, I know they say to change your mattress after 8 years.  We are obviously a little behind.  It just was not so important or so I thought.
I happened to be up late one night and I have to confess I am an infomercial junkie. (It's finally out in the open). I was watching a show where the people purchased a mattress online and it came in a big duffle bag. I watched in fascination as the duffle bag was cut open and their new mattress unfolded before their eyes.  It was like magic!  I thought WOW, we need a new mattress so I started to research these amazing foam type mattresses, excited to replace my 18-year-old mattress.
What Are Foam Mattresses Really Made Of?
I went online, read the reviews and most of them were about the horrible smell that these mattresses had.  Then I just started to educate myself on mattresses. I knew in the back of my head that something was just off with mattresses and boy was my intuition correct.  Here is what I found.
Manufacturers are dousing mattresses with highly toxic flame-retardant chemicals like polybrominated diphenyl ether, better known as PBDE, which do NOT have to be disclosed in any way.
PBDEs, which have been banned in Canada, Europe, and several states, build up in your body over time, and what you absorb or inhale does not go away. This is concerning not only because of the health problems PBDE is associated with (brain and reproductive damage, decreased sperm quality, thyroid problems and even cancer at high levels), but also because of how pervasive these chemicals have become.
Other flame-retardant chemicals currently approved for use in mattresses include:
Boric acid, a toxic respiratory irritant used to kill roaches
Antimony, a metal that may be more toxic than mercury
Formaldehyde, which causes cancer
Why Buy An Organic Mattress? Why Would You Not?
Comfort: Organic Mattresses like the Avocado Mattress are not only healthy but they feel so good. Where most mattresses allow your body to sink in in the abdomen area, Organic mattresses push the abdomen up supporting your natural "S" shape curvature of your spine. Organic latex is known for soothing muscles leaving you feeling weightless, and relaxed from head to toe.
Chemicals: Would you sleep on a beach full of oil? Of course not. So, why would anyone want to sleep on such things as foam? Memory Foam is 100% Chemicals made from the by-product of sludge oil and other nasty, smelly, chemicals. These chemicals are not only gross and nasty, they are also Toxic and Unhealthy.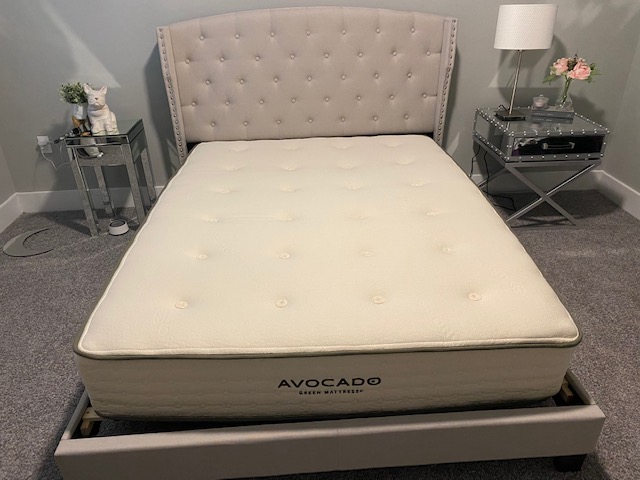 There is an ongoing lawsuit with a major memory foam manufacture in California which states that this major Memory foam manufacture actually misleads their consumers.  Stating that there were no Harmful VOC's (Volatile organic chemicals) and also mislead its consumers by not telling their customers it has the potential to off-gas chemicals such as FORMALDEHYDE which is known cancer-causing chemical. But don't take our word for it-
Click the link for official documents. MEMORY FOAM LAWSUIT
Flame Retardants: You may not smoke, but if you do you are having to pay the price for smokers. In the late 1990's the government wanted to add a chemical fire retardant to cigarettes that proved to cause cancer- so instead of adding these chemicals to cigarettes, they added the chemical Polybrominated Diphenyl Ethers or PBDE's to all mattresses and foams, even though if ingested, these chemicals could cause cancer.
When you lay in a mattress for 8 hours, these PBDE's are breathed in by you, and your children. These PBDE's are in the Air, in your dust, and in your sheets even if you sleep with a mattress protector or encasement. These Chemicals are toxic and to some even fatal, they are breaking down peoples immune systems and causing low IQ's in Children a simple search about fire retardants is a good way to start understanding more or you could watch TOXIC HOT SEAT.
Watch The Toxic Hot Seat Video
KNOW THE DIFFERENCE BETWEEN ORGANIC AND NON-ORGANIC
What makes an organic mattress "ORGANIC"? well, there is a difference. Organic mattresses are safe and non-toxic. Mattresses are made with 100% CHEMICALS.  Polyurethane foams, memory foams, and other foams are in today's mattresses.
When you mix such compounds together you get a toxic-hazardous mess.  Chemicals that you're breathing in night after night. Seeping into your pores. Tests have been performed on some memory foam mattresses which have proven to "outgas" toxic V.O.C.s (volatile organic compounds) when you add the ever-changing fire retardants to those compounds you get a disgusting cesspool of toxic chemicals linked to causing adults and children serious complications and damaging illnesses.
DON'T BE FOOLED by GIMMICKS- if it says MEMORY FOAM it is NOT ORGANIC – There is No way of Making a Natural Memory Foam Organic – Are there federal requirements for calling a mattress "organic"?
Answer: Yes. And verifying these requirements is the only way to make sure you're not falling victim to fraudulent advertising claims when shopping for an organic mattress.
We Chose the Avocado Organic Mattress:
We tried a lot of different mattresses and the Avocado Mattress the winner for us.  I have been sleeping like a baby ever since.  I did not realize how uncomfortable our old mattress had been and I  was always tossing and turning.  What I have noticed since sleeping on our new mattress is the way it conforms to my body.  I feel like I am sleeping on a cloud because the mattress is supporting my body and it supports in a way the old mattress never did.
Animals Are Intuitively Smart & Luna Loves the Avocado Mattress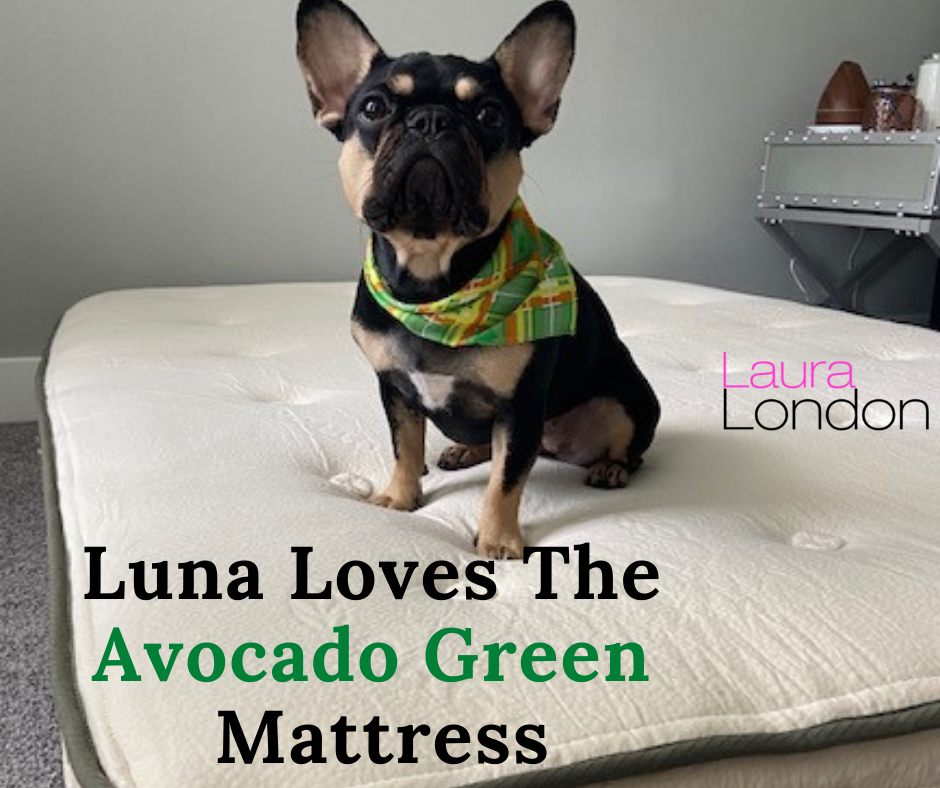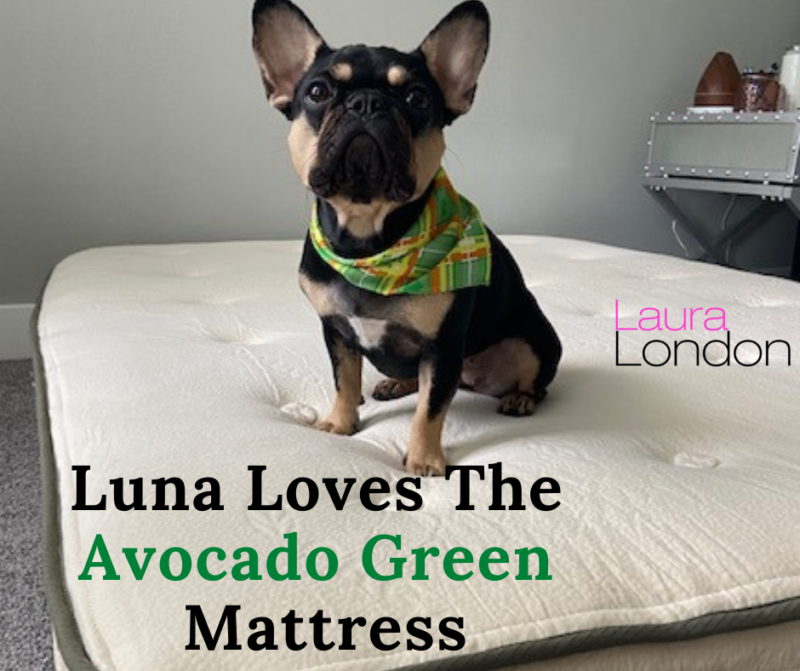 Final Thoughts
Buying a new organic mattress can be an expensive process but the benefits are so worth it. The reason for sharing this with you is that I want you to have all the information and options. Take a look at the Avocado Eco Organic Mattress.
Avocado Eco Organic Mattress:
  100 Night Trial
  10-Year Limited Warranty
  Free Shipping (Continental US)
  Easy Finance — Affirm or Shopify 4 Installments
Certified Organic Hybrid Mattress More Affordable Than a Polyurethane Hybrid Mattress.
The companies mission is to make a certified organic latex hybrid mattress affordable for everyone — at prices that compete with even polyurethane foam mattresses. Make it so people don't have to sacrifice health, sustainability and social responsibility for what they can afford. I love that!