Natural Skin Care – Your Skin in Your Largest Organ
Do you know what happens to toxic beauty products you put on your skin? They go through the skin and are absorbed into the blood stream in seconds. That is why natural skin care is so important.
According to Dr. Samuel Epstein, Former Head of the Cancer Prevention Coalition, It's more dangerous to put a product on your skin than to eat it." That's because our bodies detoxify what we eat. Our skin does not.
Europe bans more than 1300 harmful chemicals from personal care products. The U.S. bans 11. (FDA, 2015, Campaign for Safe Cosmetics)
I had been searching for an organic skin care line for a long time. Finally, I have found one that I absolutely love and have no reservations about sharing with you. I know you are going to fall head over heels with it like I did.
If you've been looking for a natural skin care line made with organic ingredients that you can trust – and that actually work – you've found it. Annmarie Gianni Skin Care is your natural, chemical-free solution to glowing, beautiful skin.
I first ordered the sample Kit called the Getaway. It came in a beautiful box with samples all in glass containers. The lid of the box has a $10 coupon off your next order and trust me you will use it.
Now I have the whole full size line or Annmarie Gianni Skin Care because I can't imagine not ever having it! I love it that much.


The Sample Getaway Box Comes With These Vegan & Gluten Free Samples:
Aloe Herb Cleanser
Ayurvedic Facial Scrub
Purifying Mud Mask
Dead Sea Facial Scrub
Neroli Toning Mist
Coconut Body Oil
Repair Serum
Herbal Facial Oil
Watch my video and I will describe each amazing Annmarie Gianni product for you!
With my sample box I also received a 90 page Toxic Free Home Guide (a $24.95 value) — which is a complete ebook that shows you where you can find hidden toxic chemicals at home and what products and options you have to remove them. In this guide, you'll find tips and advice from some of the leading experts in organics, GMOs and removing toxic chemicals. Like Ronnie Cummins, director of the Organic Consumers Association; Stacy Malkin, author and natural skin care advocate; and Pamm Larry, founder of LabelGMOs.org. Priceless!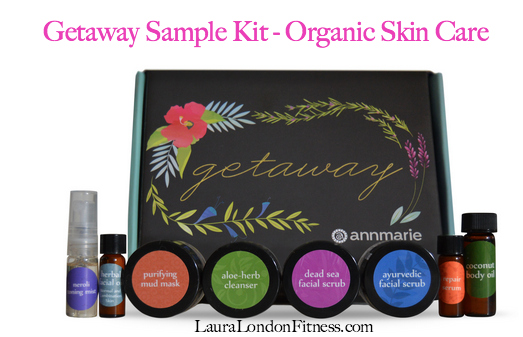 Natural Sun Screen – Sun Love
I also purchased a sample of the Sun Love – Natural Skin Care Sun Protection and I have used my number of "natural sunscreens" before. Most of which are thick, smell bad and just don't feel good on your skin.
I was really wondering how Sun Love was going to be any different. Well guess what? It was! I was so pleasantly surprised when I put it on. It is smooth, smells great and is great alone or under makeup. It is a tinted sunscreen with an 18% zinc oxide formula (containing no harmful nanospheres). Even my teenage daughters are using it!
Prevention is the only thing in your control, so make an informed decision about what you're putting on your body! Live by the Precautionary Principle – if you don't know what an ingredient is, don't use it until you do.
True beauty comes from within, or within nature – not chemicals
Organic & Wildcrafted
Real Pure Unadulterated
Cruelty Free
Commitment to Truth in Labeling
Non-GMO
Community Development
An Important Note On Fragrance and Natural Skin Care
On labels, look for the words fragrance, parfum or perfume. These are are 'Catch all" words that manufacturers legally use to hide hundreds of ingredients – it's called a "trade secret" in the industry.  The fact is, many of the ingredients behind it are not good for us.
More than 75% of products with "fragrance" are legally hiding phthalates. Phthalates are known endocrine disruptors, and are linked with birth defects, breast cancer, diabetes, obesity, autism and ADHD in first and third trimesters of pregnancy.

Campaign for Safe Cosmetics – 2002 "Not Too Pretty" Report
15 Chemicals To Avoid
1. FRAGRANCE – chemical concoctions that are not required to be listed on the label, because manufacturers can legally hide hundreds of ingredients in "fragrance" or "parfum" – it is called a "trade secret" in the industry. More than 75% of the time if you have fragrance, you have legally hidden phthalates (THAL ates) which are a known endocrine disruptors, and are linked with birth defects, breast cancer, infertility, liver, cancer, diabetes, obesity, and now with autism and ADHD in first and third trimesters of pregnancy by Dr. Philip Landrigan, Mt Sinai, Children's Environmental Health Center.
2. PARABENS – known endocrine disruptors. Preservative has caused many allergic reactions and skin rashes. Methylparaben combines benzoic acid with the methyl group of chemicals, and is highly toxic. Studies have linked these endocrine disruptors, which mimic estrogen, with breast cancer. While more conclusive studies need to be done, we recommend avoiding all parabens. A study by physicians at Pacific in Cat university of Chicago (Sept, 2011) linked BPA and methylplaraben with breast cancer, and also showed that the combination rendered tamoxifin ineffective.
3. TRICLOSAN – is the active ingredient in "anti bacterial" products, is registered with the government as a pesticide, and is a known endocrine disruptor. Triclosan (and its chemical cousin triclocarbon) is believed to disrupt thyroid function and contribute to liver and inhalation toxicity.
4. OXYBENZONE and OCTINOXATE – (and other chemical sunscreen "active ingredients") are UV ray filters that are also known endocrine disruptors.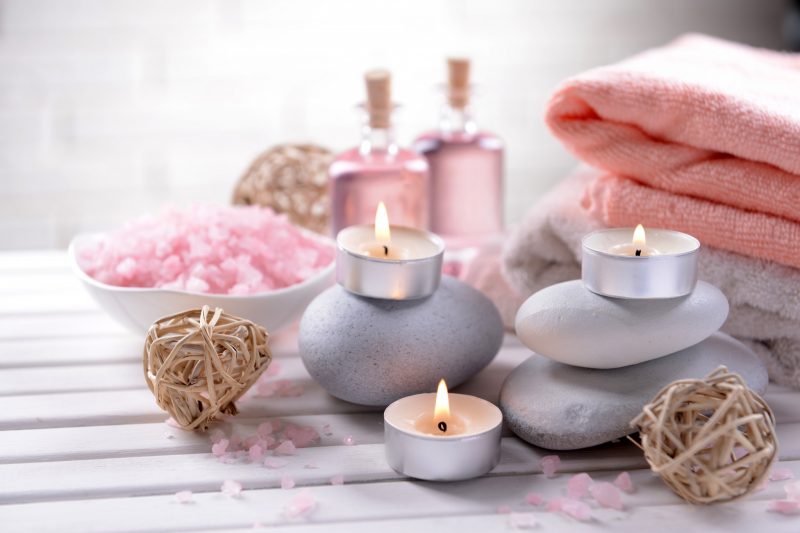 5. PETROLATUM & PETROLEUM INGREDIENTS – endocrine disruptors and carcinogens.
**Important note – ALL SIX OF THE ABOVE ARE "ENDOCRINE DISRUPTORS?" Many products that you use daily have one or more endocrine disruptors, and some will have multiples! They are important to avoid, because the endocrine system regulates ALL biological processes in the body – development of the brain and nervous system, growth and function of the reproduction system, metabolism and blood sugar levels, ovaries, testes, pituitary, thyroid and the adrenal glands. (Natural News)
The World Health Organization and the UN recently released a report that called endocrine disruptors a "Global Threat." Small amounts of endocrine disruptors matter, especially to the developing fetus.
6. PEG's – (polyethylene glycol) – are petroleum byproducts. During manufacturing process carcinogenic contamination is created – 1,4 dioxane – which is a known human carcinogen, with liver and kidney effects.
7. SODIUM LAURYL SULFATE (SLS) and sodium laureth sulfate (SLES) are detergents that create suds or foam. Both are considered carcinogens and SLES is sometimes contaminated with 1,4-dioxane, which is considered carcinogenic by the FDA. You will never see 1,4 dioxane on your label, as companies are also not required to list contaminants.
8. INGREDIENTS THAT END IN "-eth" like ceteareth, triceteareth, etc. Also carry the contamination concern for 1,4 dioxane.
**Important NOTE – all THREE of the above ingredients carry carcinogenic contaminant concerns created during manufacturing for 1,4 DIOXANE. The government allows 10 ppm (parts per million) in any one product, but no one is testing. 1,4 dioxane can be stripped for pennies, and must be done for any product exported to EU – don't we deserve the same in US?
9. RETINYL PALMITATE – the FDA released a report that states in studies, retinyl palmitate, in the presence of sunlight, enhances skin cancer lesions by 21%.
10. NANOPARTICLES – it is important to note that most manufacturers of mineral sunscreens are using nanoparticles of zinc and titanium. Nanoparticles can cross the cell barrier and drive into organs, including the brain in humans. There is no way of knowing what size particle they are using unless they tell you. In EU manufacturers must list nanoparticles on the label, not in US.
11. ALUMINUM and metals – these are bio-accumulative, meaning they store in your fat cells and accumulate, and are very hard to get rid of. Many deodorants contain aluminum as an active ingredient.
12. DIETHANOLOMINE (DEA) and COCAMIDE DEA, LAURAMIDE DEA – DEA reacts with other ingredients to become the extremely carcinogenic nitrosodiethanolamine. Beware of other ethanolamines like triethanolamine (TEA) and monoethamolamine (MEA).
13. FORMALDEHYDE RELEASERS – DIAZOLIDINYL UREA, DMDM, HYDANTOIN, QUATERNIUM – found in most personal care products, formaldehyde can cause allergic reactions, dermatitis, joint pains and headaches, cancer and immune dysfunction.
14. SYNTHETIC COLOR/DYES – made from coal tar, which is a mixture of many chemicals, derived from petroleum. Coal tar is recognized as a human carcinogen. As well, these colors may be contaminated with low levels of heavy metals and some are combined with aluminum substrate. Aluminum compounds and many heavy metals are toxic to the brain. ie. FD&C Blue 1, Green 3, Yellow 5 & 6, Red 33.
15. GLYCOL – (propylene, butylenes, etc) a synthetic petrochemical mix that has been known to cause allergic and toxic reactions, and has been linked to cancer, developmental/reproductive issues, neurotoxicity and endocrine disruption.
16. MINERAL OIL – a petroleum ingredient that coats the skin like plastic wrap, disrupting the natural immune barrier, inhibiting its ability to breathe and absorb natural moisture and nutrition, and its abilityto release toxins, which can promote acne and other disorders. The process slows down skin function and normal cell development causing premature aging. This is not something you will not find in natural skin care.
17. TALC – belonging to the same family as asbestos, talc is dangerous to inhale and has been linked to ovarian cancer.
18. SILOXANES – cyclomethicone and ingredients ending in "siloxane" (e.g., cyclopentasiloxane) are toxic, persistent, and have the potential to bioaccumulate. The EU classifies some as endocrine disruptors and possible reproductive toxicant that may impair fertility. Research shows some to cause uterine tumors and harm to the reproductive and immune systems. Some siloxanes can also influence neurotransmitters in the nervous system. Cyclomethicone is a mixture of three siloxanes.