Did you know the average person leaves the house with over 100 toxic chemicals in and on their bodies each day?
You are eating healthier, reading labels and buying organic whenever you can. You know it is important to help the body detox by adding in lots of fresh organic greens. You are becoming more educated and informed about what you are putting in your body.
But hold on a minute! Are you also educating yourself about what you are putting on your body? And what is truly being absorbed by your skin, your largest detox organ?
Lets start with something a lot of you may not have ever given a lot of thought to–your toothpaste. Holy Cow! How can that be? We have been brushing our teeth since we were little and have never really given it much thought. We just know we need to do it.
Lets take a closer look at your toothpaste.
Sodium Fluoride
Sodium Fluoride: My question is, if fluoride is so great for the teeth, then why are we still getting so many cavities?
Fluoride is a known carcinogen, but don't worry they tell you a little poison is okay–but every day, sometimes three times a day, day after day? Boy that starts to add up doesn't it? Make sure to read my blog post on Fluoride – What is in your water and should you be drinking it?. I know you will find it very eye opening.
Some other uses of sodium fluoride:
Rat poison
Glass etching
Cockroach powder
Industrial products such as dyes & plastics
Fumigants
Insecticides
Fire extinguishers
What does the label on most fluoride toothpastes say? I will let you make your own decision on what type of toothpaste you want to use every day for the rest of your life, but I suggest you may want to do a little more research. Most of the labels with this ingredient say: "If you accidentally swallow more than used for brushing, seek professional help or contact a poison control center immediately."
Sodium Lauryl Sulfate
This is a strong and harsh detergent that started off as on industrial de-greaser and garage floor cleaner. It is what gives toothpaste its wet feel and foaming qualities. It unfortunately can be absorbed by the delicate mucus membranes in the mouth, which can lead to elevated levels of toxins in the bloodstream. Oh boy not what I want going into my body. But again, you decide.
Blue Dye No. 1 or Red Dye No. 40?
Or how about none!
Did you know many synthetic dyes are made from petroleum? Just google the dangers of synthetic dyes, and you will find that they are linked to everything from asthma, to ADHD, to cancer, and even reproductive problems.
During the past 50 years, the amount of chemical dye used in foods has increased by a whopping 500%. Could it be one of the causes of the alarming rise in child behavioral problems, aggression and ADHD? Studies show it's a definite possibility. Shall we just move on now?
Artificial Flavor
Did you know that the ingredients they use to make toothpaste make it taste horrible? That is why they have to add even more toxic chemicals to make it taste better. (Wait we are not supposed to eat toothpaste are we?) These can disrupt hormones and endocrine system.
There is a very eye opening movie to watch called "The Great Culling – Our Water
Sodium Saccharin
This is another petroleum-based chemical used as a sweetener in toothpaste and is 350 times sweeter than natural sugar.
Break the Cycle
What can you do to make a simple lifestyle change and reduce your exposure to these toxic ingredients? One simple action is to change your toothpaste. Toothpaste is supposed to help protect our teeth from cavities not subject us to unhealthy chemicals.
I hope I have opened up your eyes to the harmful effects of the toxins that we expose our bodies to every day without even giving it a second thought.
Words are like toothpaste. Once it comes out you can't put it back.
My Favorite "UN-Mouthwash" Is Peppermint Oil
Davina are my go to oils for everything. Are you still using mouthwash? Let me ask you a few questions. Is it green, red or blue? Then it is filled with artificial colors that are highly toxic to your body and brain. Did you know that mouthwashes contain a large amount of alcohol in them and that it dries your mouth out? What, what? That's right. I say toss it to the curb and replace it with peppermint oil.
Peppermint oil is an amazing mouthwash and breath freshener. Take 1-2 drops and place them in a small glass of water. Swish, gargle as you normally would and let it work its magic. It's great to add a drop onto your dental floss and run it though your gums. You teeth and gums will be doing the happy dance and your dentist will want to know what you have been doing. Trust me, because my dentist always asks me.
You can get your Peppermint Oil here at Davina Wellness. I can't wait to hear how much you love it. Check out my other essential oil blog post here.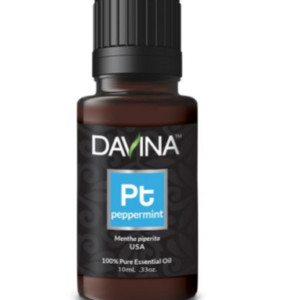 My Favorite Brand of Toothpaste is David's Toothpaste (It's Fluoride Free!)
Davids premium natural toothpaste is made using the highest quality naturally sourced and naturally derived ingredients to safely & effectively whiten teeth, fight plaque, and freshen breath. They are also committed to using premium USA Origin ingredients for the highest quality possible and to support American jobs.
Have you tried many different "natural" toothpastes like I have only to be disappointed? Their is no flavor, maybe the texture is kind of icky or the tube is so small you could use it all in a week? Sound familiar? When I found David's Toothpaste I was like YES! This is what I have been looking for. I also love that it has a fresh minty taste. Plus it is FLUORIDE FREE Yay!!!
David's Definition of Natural
Ingredients Sourced and Derived from Nature.
Formulas Free of Artificial Flavors, Artificial Preservatives, Artificial Colors, and Artificial Sweeteners.
Free From Animal Derived Ingredients (Vegan).
Not Tested on Animals (Cruelty Free).
Use of Sustainable Packaging.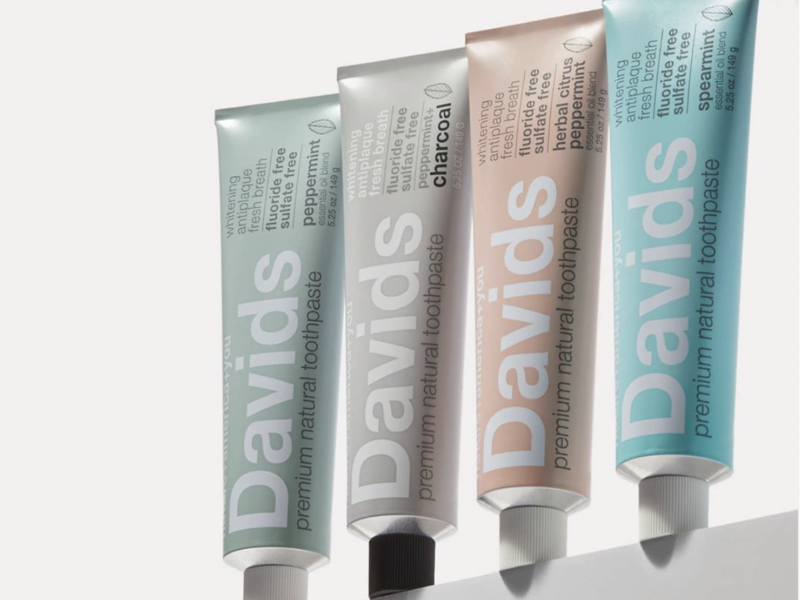 The Metal Tube Packaging
recyclable metal tube – Each year about 1.5 Billion toothpaste tubes end up in US landfills and we wanted to do better. You may have thought we selected the metal tube for it's modern aesthetic (that was part of it), but the main reasons Davids comes in metal tubes is for maintaining maximum freshness and for their ability to be recycled. Our aluminum tubes are lined with a Food Grade Non-BPA liner so there is no paste to metal contact, and this barrier helps prevent any leaching of the tube material into the paste. For details on how to recycle your Davids tube, please visit their faq page.
FSC certified paperboard packaging – With Davids commitment to environmental sustainability, our paperboard packaging only comes from forests protected and managed by the Forest Stewardship Council (FSC). Because FSC is the gold standard in forest certification, it is the only system supported by groups such as WWF, Sierra Club, Greenpeace, Natural Resources Defense Council and National Wildlife Federation. Learn more about how FSC is protecting forests for future generations here.