Pilates Ab Workout for A Tight and Toned Core
Hi everyone. Get ready to love this brand new Pilates ab workout. I am creating a series of 7-minute ab workout routines using different equipment.  Do one workout each day for 7 days and watch as your core firms and tones up. Pilates is one of my favorite forms of exercise.  Pilates is a system of exercises, designed to improve physical strength, flexibility, and posture, and enhance mental awareness.
You know I am always changing up my workout routines. I love challenging you and giving you new workout ideas. For this Pilates ab workout, all you need is a mat and your water bottle.  That's it! Make sure to do my Pilates ring workout, it is great for targeting the lower body, hip, and outer thigh area. This is the Pilates ring I use.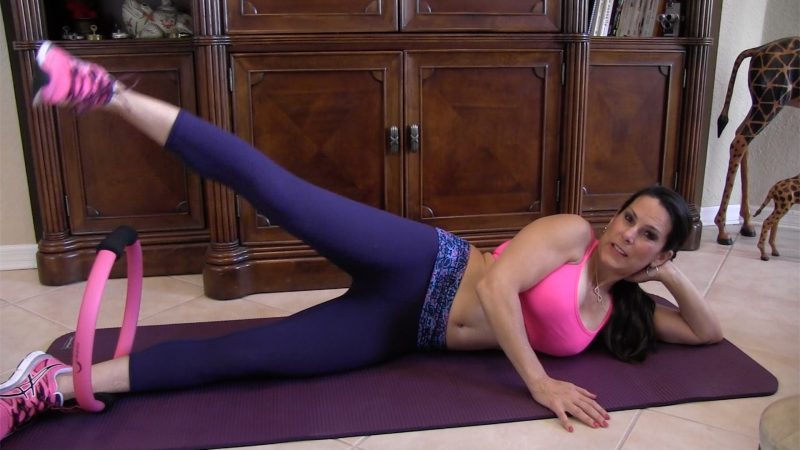 The 7-Minute Pilates AB Workout
This workout consists of 7 different Pilates Ab exercises.
Single Leg Stretch
Double Straight Leg Stretch
Rolling Like A Ball
Criss Cross
Corkscrew
The Saw
Mermaid
The Benefits of Pilates
It's amazing for your Abs – 

Pilates hits your core a.k.a your "powerhouse") unlike any other workout.

It can help to ease back pain – 

A stronger core equals a stronger back.

Pilates is easy on your joints – 

Pilates' slow and controlled movements puts a minimal impact on your joints.
It makes you more aware of your body – Through focused moves, breathing and concentration.

It helps to improve your sports performance – F

ocusing on your core helps you understand that your whole body is connected to your core.
Pilates helps with flexibility – Doing Pilates helps to create a more flexible body.
My Favorite Pilates Equipment On AMAZON
You know I love PINK and most of my exercise equipment is pink.  I just think it makes exercising more fun. Enjoy. Click on the image below to learn more about some of my favorite workout items.
For more of my favorites visit my Amazon Store, for workout clothes, organic supplements, organic & cruelty-free beauty products and more.