How to Make Dehydrated Mangos
Dehydrated Mangos are a great snack to have on hand. They contain high levels of fiber, vitamin A, and natural sugars, so they make a great snack. Mangos are a gift from mother nature. On the outside, they are a mix of red, orange and yellow. When opened they are a beautiful yellowish orange and bursting with sweetness and flavor.
Our neighbors have a mango tree with hundreds of mangos on it. They are so kind and always let us take as many as we want. My husband loves dried mango. He takes it when he plays softball and chews on it to keep his energy up during the games. Much better than chewing tobacco. Yuck!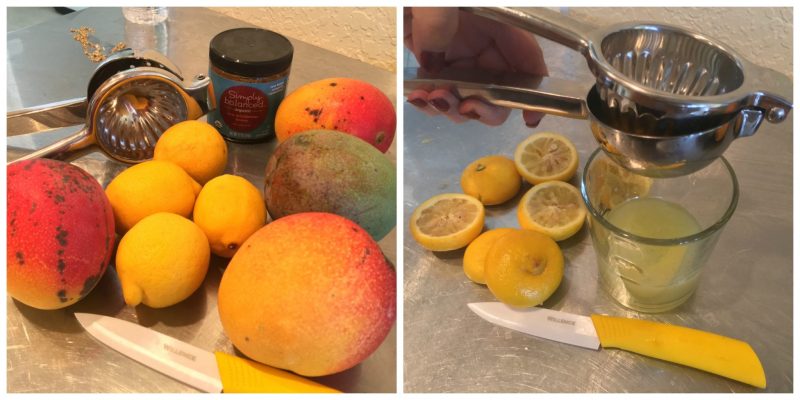 The Excalibur Dehydrator
The Excalibur dehydrator is a great tool to have if you are eating a high plant-based diet or vegan diet. It comes with racks that slide in and out so you can make many things at once. Dehydrating is an easy way to introduce more fruits and vegetables into your diet. In turn, you'll feel more energetic, you'll see an improvement in the health of your skin, hair, eyes, nails…and your mood. You can make dried fruits, crackers, nuts, kale chips, and even dog treats in the dehydrator.
WHAT IS "LIVING" OR "RAW" FOODS? – Raw or living food is food that has not been exposed to temperatures above 46.1°C (115°F). This low temperature maintains the foods enzymatic and nutritional properties.
What You Need To Make Dehydrated Mangos:
4-5 mangos and slice them into about 1/2 inch slices
1 tbsp. raw honey
1/4 cup lemon juice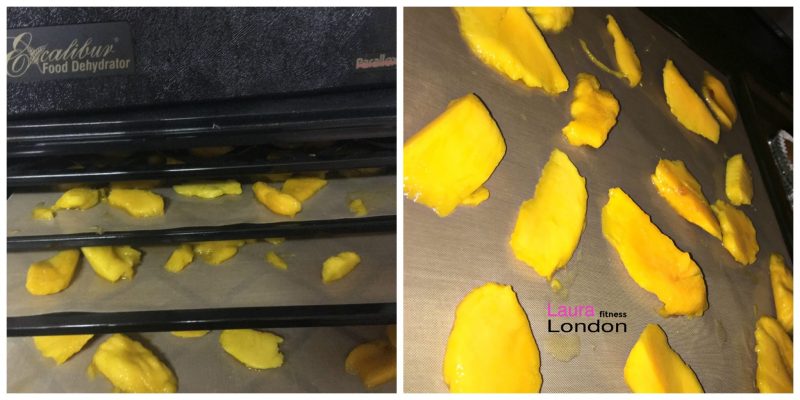 DIRECTIONS:
Place the mangos in a bowl.
Mix the lemon and honey together
Gently coat the mango pieces
Place on dehydrator sheets
Dehydrate for 10-12 hours at 115 degrees.  Check the mangos at 8-9 hours and flip them then dehydrate more until done. Every dehydrator is different and will need different time lengths to cook.
Chemicals In Dried Fruits
The problem is the dehydrated mangos you buy in the grocery store have chemicals in them. To preserve the fruit and prevent discoloration, some companies add in sulfur dioxide and sulfates.
Dried fruits are among the foods highest in sulfites, with raisins and prunes containing between 500 and 2,000 parts per million. By comparison, wine — a food thought by many to be high in sulfites — contains between 20 and 350 parts per million.

The U.S. Food and Drug Administration mandates that foods containing more than 10 parts per million of sulfites must list this information on the food label. Countries have different standards for sulfites. The Australian government limits the amount of sulfites in foods to 3,000 ppm, while the British government limits sulfites in food to 2,000 ppm.  Perkins, Sharon.

"The Health Risks of Sulfur Dioxide in Dried Fruits." Healthy Eating | SF Gate, http://healthyeating.sfgate.com/health-risks-sulfur-dioxide-dried-fruits-3921.html. 22 June 2017.
The Health Risks Of Sulfur Dioxide & Sulfates
Can cause breathing issues
Tightness in chest
Allergic response
Shop The Laura London Fitness Amazon Health, Fitness & Yoga Store
You all keep asking me what are my favorite fitness items like the Renewdle. Amazon has created a Laura London Fitness Store. Here you will find lists that contain my personal favorite fitness, health, beauty and kitchen items that I use and love.  Take a look. P.S. I love Amazon. They make shopping online so easy. Laura London Fitness Amazon Store