Julia's Vegan Yellow Pepper Gazpacho Soup
My client Julia shared this deliciously healthy yellow pepper Gazpacho soup recipe with me. I told her that it just might end up on my blog and here it is. My mom used to make Gazpacho when I was a child. Maybe I was a strange child but I loved cold soup. Try some of the other soup recipes on my website.
What is Gazpacho?
Originating from the Andalusia region of southern Spain, Gazpacho is traditionally made from a mixture of puréed tomatoes and other ingredients such as cucumber, sweet bell peppers, onions, garlic, and olive oil. Its is a soup that is served cold and not hot. It's very refreshing especially during the summer months. Have you ever made a cold soup before? You can also make fruit based Gazpacho soups. Really the possibilities are endless and only limited to your culinary imagination.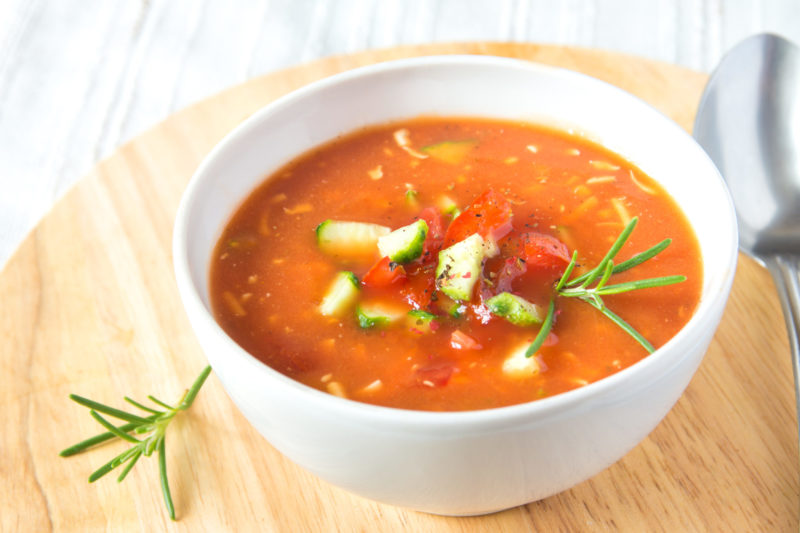 Print
Julia's Vegan Yellow Pepper Gazpacho
Ingredients
1 3/4 lb yellow bell peppers (about 4), chopped
1 1/2  lb yellow tomatoes (about 2 large), chopped
1 1/2 cups seeded and peeled cucumber, chopped
2 cloves garlic, freshly pressed
2 Tbsp sherry vinegar
3/4 tsp pink salt
3 Tbsp olive oil
1 tbsp lemon juice, fresh pressed (zest if you like too)
Optional Garnishes:
Diced bell pepper
Diced tomato
Diced cucumber
Black pepper
A drizzle of olive oil
Red pepper flakes
Instructions
Add the ingredients into a food processor and process on high until smooth about 2-3 minutes.
Chill for 1 hour
Ladle into bowls and garnish with diced pepper, cucumber, tomato or whatever you like.
Courses Soup